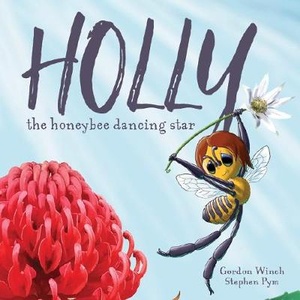 Holly the Honeybee Dancing Star
Written by Gordon Winch
Illustrated by Stephen Pym
Reviewed by Inda Ahmad Zabri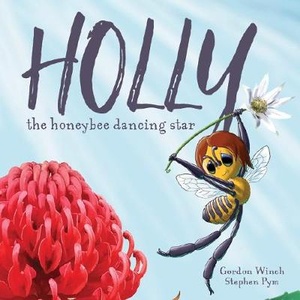 Holly the Honeybee Dancing Star, a picture book which highlights a particularly clever trait of the honeybee is the third from duo Gordon Winch and Stephen Pym, who both have a background in science. They also produced 'Apollo the Powerful Owl' and 'Penelope the Mountain Pygmy Possum.'
Holly is a worker bee with a talent for searching out pollen. When she returns to the hive, she uses her waggle dance to let the bees know where the pollen was found. This dance is extremely important as it reveals the location of the pollen and its distance from the hive  to the other bees. Holly uses dancing as words are obviously not used in the colony, and sounds are not useful as bees do not have ears.
Repetition is effective for cadence – 'She waggled her body, she wiggled her body, she waggled her body as she danced along'. It also emphasises the information, as in the refrain, 'the sweet, nourishing nectar and rich, powdery pollen.'
It's a simple story  to engage preschoolers or lower primary children, with a pleasing ending and a dose of scientific information that's delivered in an enjoyable narrative.
The illustration is a mix of appealing lifelike landscapes and superimposed cartoonish bees, with mops of brown hair, big black eyes and anthropomorphic faces. I adore the Australiana in the illustrations – protea, wattle, banksia and gum blossoms.
It's the kind of book that kids can relate to instantly, for as long as bees are healthy and thriving in our gardens. After reading about Holly, they will also have an insight into the clever life of hardworking honeybees.
Read more about how scientists decode honeybee 'waggle'.
New Frontier Publishing 2019 Picture Book Hardback $24.99 Age 3-6 ISBN: 978-1-925594-49-2