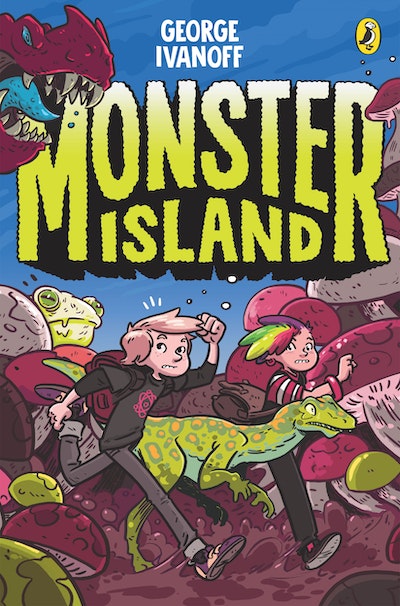 Monster Island
By George Ivanoff
Reviewed by Sarah Custance

George Ivanoff is the author of over 100 books, both fact and fiction. Monster Island is Ivanoff's latest fiction novel about a young boy who ends up on an island filled with dinosaurs.
When his mum is offered a job on an island in the mysterious Bass Strait Triangle, 13-year-old Bernie is worried for her safety and decides to follow her. After stowing away aboard a ship, Bernie finds himself on Monster Island, an island that should be impossible as dinosaurs roam beside other genetically implausible creatures. Meeting Ivy, the daughter of the Island's wealthy benefactor, Bernie's cover is blown as she shows him the many marvels of the Island.
When suspicious things start to happen, Ivy decides that the only way they'll both be allowed to stay is to solve the mysteries and prove their worth. With military-grade drone chases though the jungle, giant toads, cobweb-like fungus that consumes anything it touches, fire-breathing Komodo dragons, and lots of dinosaurs, the two friends soon realise that Monster Island really lives up to its name.
Filled with dinosaur facts, famous mysteries, cryptids, and lots of fungi, Monster Island will be sure to enthral young readers who enjoy a bit of science and information with their novels. An easy and fast read, audiences will love the idea of such a mystical island and the friendly pet dinosaur that comes with it. So long as we look past the attempted murder of 2 children, and the very implausible ending for the 'bad guys', Monster Island has themes of family, friendship, and trust (among people, dinosaurs, and semi-magical ecosystems) and reads like a younger version of Jurassic Park meets The Mysterious Island.