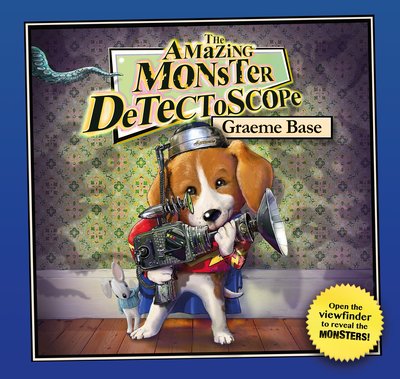 The Amazing Monster DetectoScope
written and illustrated by Graeme Base
Viking/Penguin 2017  28 pp hardback $29.99 ISBN 9780670079308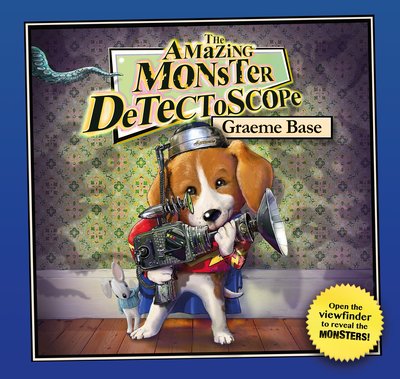 This is another quality picture book by Graeme Base and a great addition to his other titles. As in all his books the detailed illustrations are remarkable, as is the  rhyme the story is narrated in. The hardcover book has thick, sturdy pages that encapsulate a viewfinder mechanism on each double page.
One of the author's traits is to hide or include something on each page for the observant reader to discover. In this case it is a little bunny that is always present somewhere on the page along with our main character, an inquisitive puppy.
When the puppy saves up and buys a Monster DetectoScope, a handheld device that can locate and identify the monsters he imagines lurk in his home, he sees more than he bargains for and gradually becomes afraid.
The reader can follow the puppy holding the DetectoScope in each room and see the monsters appear by a quick swivel of the viewfinder's tag. Behind each seemingly commonplace setting, monsters lurk. A bedroom display of dolls and teddies converts into a grotesque array of monsters spilling from cupboard doors; the downstairs hall cupboard opens to reveal jaw-snapping, tongue-wagging suitcase monsters; the unassuming bathroom toilet bowl harbours a swishing sea monster. Everywhere the puppy looks monsters are revealed.
As his house grows ears and the veranda jaws open wide the puppy throws away the DetectoScope and runs outside, only to find the garbage truck snarling at him. Eventually the puppy has to turn the tables on the monsters and take control. He decides they need a boss. Everyone obeys and the monsters stay, until one day one by one they disappear.
Young readers will be able to relate to  times they imagine something is lurking under their beds or behind the door, and in this instance, young readers may just imagine new places where monsters may exist. However, the story is all about facing your fears and not letting your imagination get the better of you.
I highly recommend this creative, thought provoking book to young and older readers alike.
Reviewed by Leslee Ann Hewson