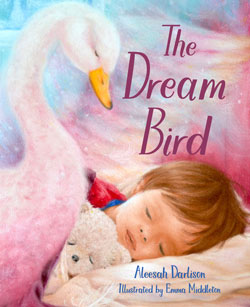 The Dream Bird
Written by Aleesah Darlison Illustrated by Emma Middleton
Reviewed by Sandy Driessens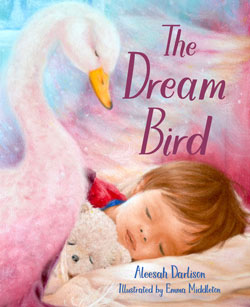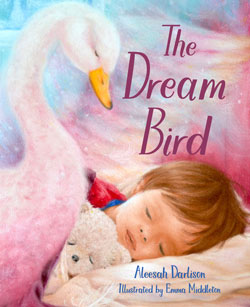 George is a little boy who plays all day but at night, struggles to go to sleep. Though the other members of his family make helpful suggestions, it is Gran who shares a bedtime story that soothes him off to sleep.
The title of the book and tranquil cover image of George, his bear and the dream bird prepare you for a very gentle story. The text by Aleesah is written in such a  way that you can hear a comforting voice transporting you from day to night, through imagination and into slumber.
The whispery, dreamlike illustrations by Emma mirror the words perfectly. The pastel colours create a subtle transition from day, with light and airy blue through 'flickering twilight' to night with the warm and comforting magenta colours of Gran's bedroom and gown echoing those of the Dream Bird. The beautiful end papers also take you on the journey from playful wakefulness to peaceful sleep.
Difficulty sleeping can be fearful for little ones and we hear and see that in George but  he finds a safe haven with his Gran and in his own imagination.
The Dream Bird is a written and illustrated lullaby which is comforting for all ages. Sharing this book with a beloved little one may also remind the reader of the serenity of sweet dreams.
 Wombat Books  2018   HB Picture Book $19.99 ISBN 978-1-925563-33-7