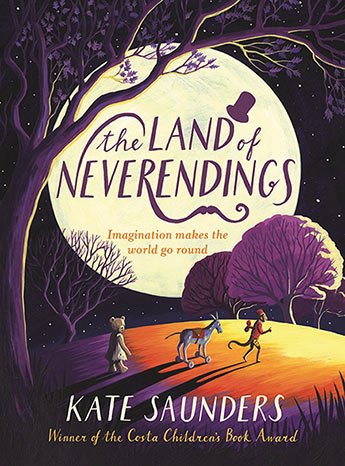 The Land of Neverendings
Written by Kate Saunders 
Kate Saunders is a full-time author and journalist in London who writes for children and adults. She won the Costa Children's Book Award for Five Children on the Western Front.
Reviewed by Renee Hills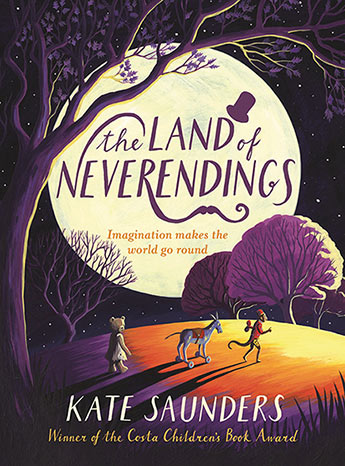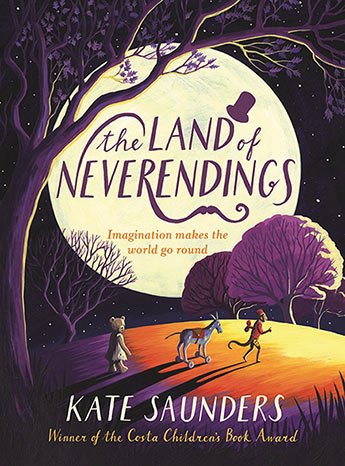 Imagination makes the world go round is the subtitle to this middle grade blend of fact and fantasy where imagination dances all over the pages as Emily begins high school and lives with the grief of the sudden death of her older disabled sister.
Holly has died three months ago; her wheelchair lift and bath hoist have been removed; and the lights have gone out in the land of Smockeroon, the imaginary world that Emily created through the voice of Bluey, Holly's favourite bright blue teddy bear. Such is Saunder's skill, that by page 3, I was so immersed in Emily's point of view that this sentence felt like a physical punch: 'None of it had seemed real to Emily until Mum gave Bluey to the man from the undertakers to put in Holly's coffin.' Emily's distress at the loss of this toy, that was actually so much more than a toy, prompts her to begin recording Bluey's sayings and the stories she'd told about his adventures with Holly.
When Emily sees a penguin and a bobbled bear singing and talking about Deep Smockeroon (and sometimes about Bluey), she wonders if she is dreaming. But her neighbour Ruth, whose son died 10 years ago, confirms that Hugo and Smiffy were his favourite toys and that she had told many stories about them. Emily's and Ruth's imaginary worlds begin to leak into each other. Worse still, it appears the door between Smockeroon and the real world is broken. All kinds of silliness seeps out into the real world and Smockeroon is threatened with the sadness and nastiness of everyday life, symbolised by an ugly, smelly toad.
The novel alternates between Hardside (the real world) and Smockeroon. In the real world, most people do not know how to relate to Emily now that her sister is dead. Her best friend abandons her and her grieving parents do their best to keep the family going. In Smockeroon, events become more and more chaotic the longer the door stays broken. Emily and Ruth must find a way to repair it, even though Emily dearly wants to see Bluey again, and his owner Holly. For this, she could pay the ultimate price.
Through the quirky characters in this imaginary world and their interactions with Emily, Ruth and others, Saunders explores issues such as contemplating death when a loved one has died. 'Emily understood about the pain, which was so much worse than any sort of physical pain. She knew that she didn't want to die herself – but would it be different if she knew for certain that she would see Holly again?' This is a story about the love of toys: the saving grace of imagination, the pain of grief, and the challenges of friendship, both with peers and refreshingly, between a 'tween' and an adult.
Although the main protagonist is a girl, many of the main toy characters once belonged to boys who loved them dearly and told stories about them. The book allows all children to use their imagination to explore the confusion and pain of death, as well as the challenge of growing from childhood into adolescence.  Grieving parents and other adults may also find comfort in this intriguing, sad and funny tale. Despite the novel being a little long and slightly laboured towards the end with the introduction of yet more old toys, Saunders has woven an intricate and engaging story with a satisfying ending.
Allen & Unwin 2017 336 pages Hardback $22.99 Ages 9 – 12 ISBN:9780571310845