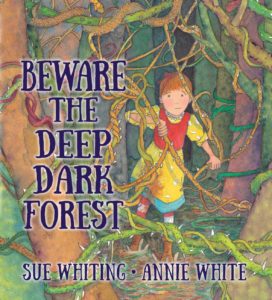 Beware the Deep Dark Forest
by Sue Whiting
illustrated by Annie White
reviewed by Peter Taylor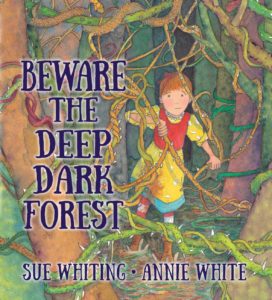 The warmth of Annie White's delicious artwork and the unusual hand-drawn font used on the cover of Beware the Deep Dark Forrest instantly persuade us to explore the treescape within. Progressing through the tangle-decorated endpaper and title page, we stand on the forest edge with Rosie, a child. Though she warns her puppy, Tinky, never ever to enter, it doesn't understand and bounds into the unknown. Rosie's father and grandmother warn her that the forest's filled with carnivorous plants and venomous snakes…but of course, without hesitating and alone, Rosie, like us, explores the depths in search of Tinky, only to find the terrifying wolf, ravine and troll are even worse than the plants .and snakes!
This is a story about friendship, having courage to face and overcome fears and problems, being resourceful, and aiding/rescuing those who need help. Sue Whiting's words, as always, are a delight to read (especially aloud), and the repetition and alliteration in the text make it a scary story that will become a family favourite.
We don't see Rosie's father and grandmother take any action when Rosie enters the forest unaccompanied. Have they given her permission to wander where they believe dangers lurk? Rosie's in there for a considerable time, but they apparently return to or stay in the village, unconcerned, waiting for her to stagger home and appear. Could the story lead young children to think that it's okay to adventure alone in wild places? I believe adult supervision (at least initially) is advisable to emphasise the story's fantasy nature.
Walker Books Australia 2018 Picture Book $24.99 ISBN: 9781742032344
Peter Taylor is a writer, illustrator and calligrapher who lives and works in Brisbane, Australia. Find out more about him at Writing for Children .