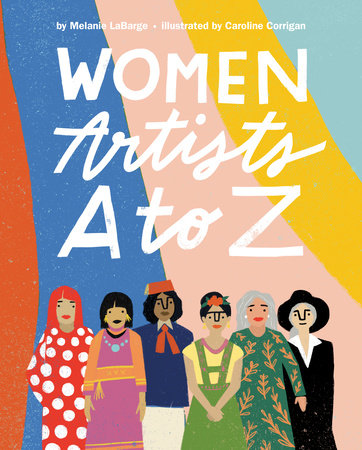 Women Artists A to Z
by Melanie LaBarge
illustrated by Caroline Corrigan
reviewed by Mia Macrossan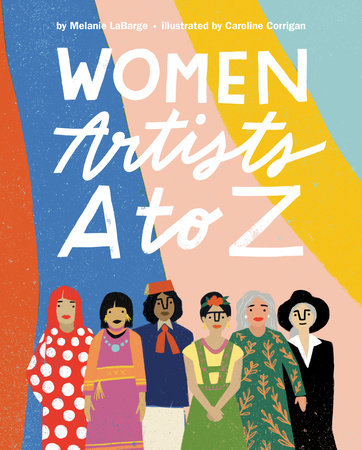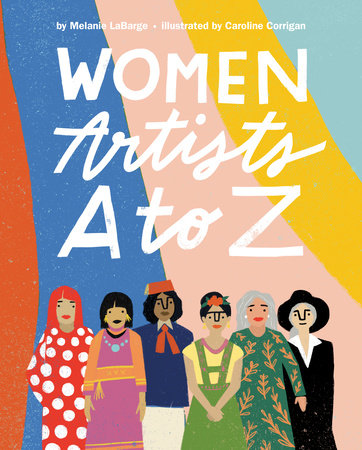 This thoughtful clever picture book works on several levels so as to appeal to a wide age range. It is both a simple alphabet book teaching a young child the letters we use to form words, (A is for Angel, B is for Box etc) and also an exploration and celebration of the work of well-known and not so well-known women artists.
As you progress through the book you realise that LaBarge/Corrigan are not afraid to include complex concepts for the young reader. Words such as technique, grid, and unique may need some explanation or discussion but the illustrations and the clear language help understanding enormously.
So you can read the book on that level. However, each page is also about an artist and her work. Each double page spread has a succinct paragraph describing what is unique to this particular artist and illustrates her particular style. D is for Dots features Yayoi Kusama, whose work will be familiar to many Brisbane children as it was showcased at the Gallery of Modern Art a short while ago. Similarly F is for Flower features Georgia O'Keefe whose work also featured in an exhibition in Brisbane recently.
Artists chosen for representation range from all over the world, are from different time periods and backgrounds, and use a startling variety of materials, techniques and concepts in their work. Each artist is a gateway to a style and/or period that rewards further investigation. This book is a springboard for a whole program of discovery and creativity.
That this is one of the aims of the book is evidenced at the back where there are several information pages. Each artist has another paragraph which gives information about their life and work and suggestions for creating art inspired by each artist. For Georgia O'Keeffe the suggestion is not just the obvious one of 'draw a flower' but also asks, 'How would you paint a flower: up close or far away, a single stem or a whole field?', thus challenging the reader to go further, to think deeper.
Can someone please mount an exhibition featuring all these wonderfully creative people? We have the catalogue right here. Recommended for everyone.
Puffin Books February 2020 64 pp Hardback  $24.99  ISBN 9781760896317
reproduced with permission from Reading Time