Tinsel: The Girls Who Invented Christmas
By Sibeal Pounder
Reviewed by Sarah Custance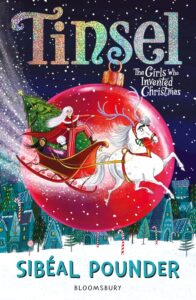 Sibeal Pounder is the award winning author of the Witch Wars series as well as the Bad Mermaids books. Her newest book, Tinsel, puts an imaginative twist to the classic Santa Claus story by asking the reader what would have happened if the Santa  we all know and love is actually a young girl instead of that bearded old man?
Blanche Claus is an orphan in the 1800's who hates Christmas more than anything else, that is, until she is given a magical bauble that changes everything. Armed with new friends, fashionista Rinki and cook Santa, a grumpy mare named Rudy, a boisterous dancing Christmas tree, and a whole village of bored elves all named Carol,  Blanche sets out to do the impossible, give every child a gift for Christmas.
With magic mishaps, worldwide misunderstandings, a very grinchy neighbour, and time all against her, can Blanche fulfil her enormous dream AND set the world strait as to the real identity of 'S Claus'?
This modern Christmas story for new generations  is an amusing and engaging read, full of twists right to the end.
Readers will love Blanche, Rudy, Rinki, Santa, and all the Carols. So long as the reader ignores all that they may know about the origins of the Santa Claus tales such as  Saint Nicholas, they will not be disappointed in this very festive tale  about 'the girls who invented Christmas'.
Bloomsbury 2020