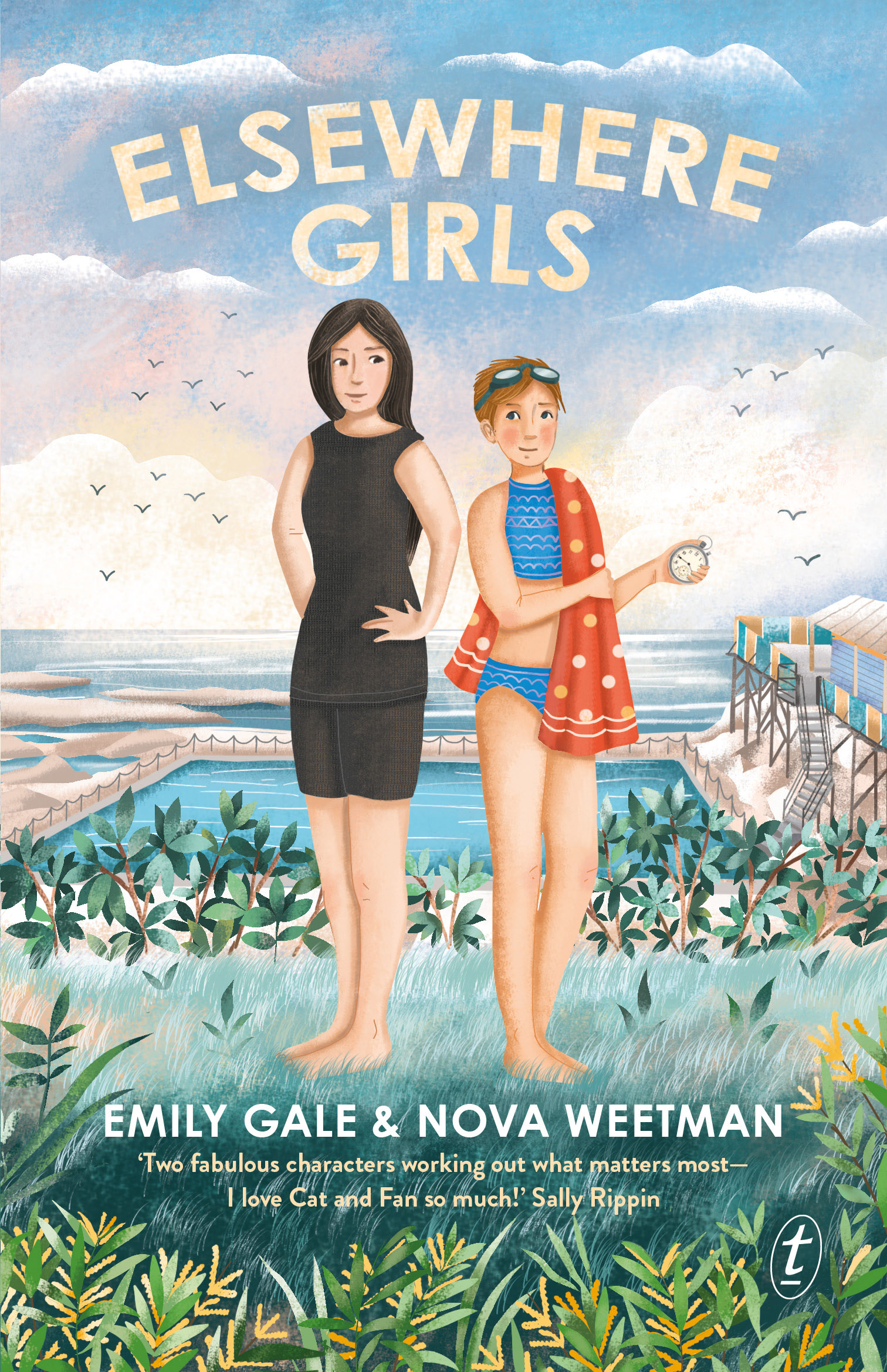 Elsewhere Girls
By Emily Gale and Nova Weetman
Reviewed by Sarah Custance
Emily Gale and Nova Weetman are both Melbourne based authors who are much celebrated in their chosen genres. Emily Gale has written many acclaimed YA novels such as the Eliza Boom Diaries, The Other Side of Summer, I Am Out with Lanterns, and Girl, Aloud. Nova Weetman is the author of 13 books including The Secrets We Keep (along with two sequels) and Sick Bay, which are all well received middle-grade novels. Elsewhere Girls is the first collaboration novel between these authors, with each choosing a character  to write about and give voice to.
Cat and Fanny both swim daily, live in Sydney, and even visit the same pool but have never met because they live over 100 years apart. 13-year-old Cat attends a prestigious girls school on a swimming scholarship in 2021. While she is a good swimmer she has lost her spark for competitive swimming and the pressures of having a scholarship to maintain are eroding her enthusiasm. 16-year-old Fanny wants to swim and compete more than anything but she is constantly  restricted by the social rules of 1908.
One day while swimming in Wylie's Baths the two girls suddenly switch places! Trapped in new bodies, new situations and different centuries, each girl has to face unexpected challenges while figuring out what they are willing to fight for and what they may need to be brave enough to let go of.
Elsewhere Girls is an extremely well written book in that it feels completely realistic. Both girls have very understandable and relatable meltdowns when they find out  they are now in someone else's body and struggle with their new daily lives. The writing is masterfully blended with each chapter focusing on a different character. It doesn't feel jolting to read, unlike some other books written in this manner.  The intertwining of the two girls' story arcs transitions smoothly from one to the other maintaining the reader's involvement and interest.
While not a fast-paced book, the realism  captures the imagination and draws you into the main characters and their separate plights. The book delves into themes of family, friendship, academic pressure, feminism, racism, misogyny, and injustice while interweaving  historic facts and places with pure fiction.
This is a must read for time-slip fans, swimming enthusiasts and history buffs,  aged 10+.