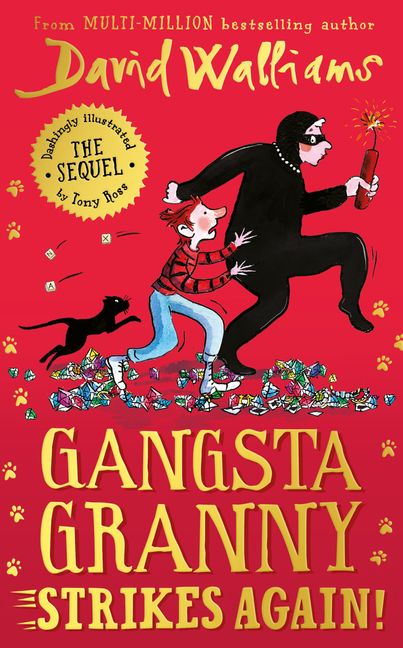 Gangsta Granny Strikes Again
Written by David Walliams
Illustrated by Tony Ross
Reviewed by Junior Reviewer Finley, aged 9, who enjoys funny books and likes to draw.
This book is a sequel to Gangsta Granny. Quite a few precious things go missing from museums in ways that only The Black Cat could pull off. The Black Cat was Ben's granny, but she's gone. So who could it be? I'll give you a hint: her name starts with 'Q'. Dun dun dun….
Who is your favourite character?

The Black Cat.
Why do you like The Black Cat?.

It's daring, it protects Ben and it is mysterious. Ben thinks it is the spirit of Granny watching over him.
What was the most interesting/exciting/suspenseful moment in the story?

The most suspenseful thing was when they were caught by Mr Nosy Parker and his nosy squad of oldies.
How did you feel about this book? Did this story make you laugh/cry/throw it across the room?

Laugh, especially when Raj said he wears brown undies in case of a boomtastic bottom banger.
Would you have changed anything in the story and why?

I don't think I would have changed anything in the story.
To whom would you recommend this book?

Kids that like to laugh. 
I liked that it was a funny book. 
How many hearts out of five?
♥ ♥ ♥ ♥ ♥
Thank you for being a StoryLinks Junior Reviewer!