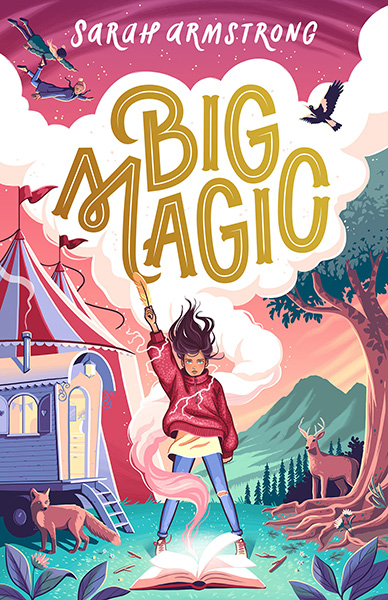 Big Magic
By Sarah Armstrong
Reviewed by Mia Macrossan
Sarah has published several books for adults included the Miles Franklin shortlisted Salt Rain. Big Magic is her first novel for children, with a sequel due in 2023.
The 'big' magic in this book is passed down from mother to daughter in varying degrees of strength. Training is required to develop  powers which can enable you to cross to parallel worlds where different versions of yourself exist.
Tulsi at 11 is frustrated that her mother refuses to teach her anything until Tulsi is 16. Her mother is the magician in a struggling circus threatened by closure. Tulsi has grown up in the circus, she loves it and cannot imagine another life. She dreams of joining her mother in performing big magic in front of adoring crowds. When her mother disappears while practicing a new magic trick Tulsi has to find her grandmother and enlist her help in bringing her mother back.
Tulsi apart from the magic is a normal enthusiastic 11 year old who loves her family and friends and will do anything to help them. She is desperate to get her mother back home and is prepared to travel to whatever parallel world her mother is stuck in. Her grandmother is an interesting character, described as 'slippery' and while full of knowledge, she is a more complex person with her own issues that makes her a welcome change from the usual run of comfortable grandmas in children's fiction.
There is plenty of  emotional tension and drama as the different scenarios in the parallel worlds play out. Will Tulsi  be able to get her mother back in time and will they save the circus? Sarah  knows how to pace a story, her characters are interesting and she brings it all to a satisfactory conclusion that will leave her readers eager for the next adventure.
Enjoyable and engrossing  for middle grade readers who like a slightly different kind of magic.