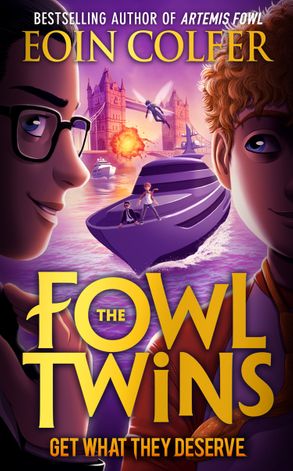 The Fowl Twins: Get What They Deserve
By Eoin Colfer
Reviewed by Sarah Custance

Eoin Colfer is the mastermind behind the bestselling Artemis Fowl series and has now written a spinoff series about Artemis' younger twin brothers. Get What They Deserve is the third book in The Fowl Twins series.
Once again, we join 12-year-old twins Miles and Beckett, and their pixel friend/handler Specialist Lazuli as they save the world from a problem that they most likely started. This time things start off with a bang… quite literally as their old nemesis Lord Teddy Bleedham-Drye tries to ram a plane at Miles during the prodigy's lecture at a Coroner and Pathologist association meeting. Having failed and seemingly caused his own demise, the twins and Lazuli are sceptical that the Duke is, in fact, dead, and decide to sneak into the Tower Bridge Mortuary (currently used by MI5 and MI6 for highly sensitive corpses).
This leads to paranormal encounters, unexpected goblin hitmen, the emergence of hidden powers, and the confirmation that the corpse does indeed belong to Lord Teddy. Now the group find themselves unexpectedly separated as Lazuli embarks on a secretive (and almost certainly illegal) mission of her own while the twins find themselves back at Childerblaine House in St George after following the Duke's last living relative in order to fulfil the requirements of his Will. The separated group now need to deal with ghosts, mercenaries, clones, mutated clones, royalty, betrayals, missing persons, and a very unconventional romance if they are to stay alive, and with each new oddity their chances of survival are quickly dwindling.
The Fowl Twins: Get What They Deserve is an adventure packed new addition to the Fowl universe. This book starts at a run and just keeps going as readers are thrown twists, monsters, and unusual (and most of the time disgusting) happenings on every page. As each character starts to doubt their abilities for the first time and discover new things about themselves the book is not only action packed but also a bit contemplative with an ever-present question of morals that all Fowl books must have.
You don't need to have read the Artemis Fowl series to enjoy The Fowl Twins series but Get What They Deserve is not a book that should be read on its own as there is such a detailed backstory that you can only get by reading the other Fowl Twin books in order.