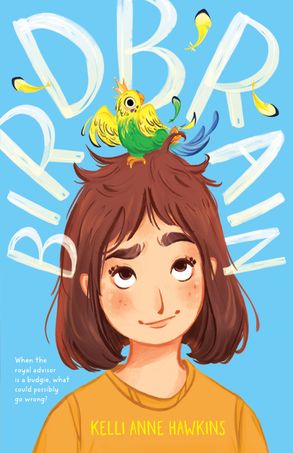 Birdbrain
By Kelli Anne Hawkins
Reviewed by Sarah Custance

Birdbrain is the second middle-grade novel by Australian author Kelli Anne Hawkins, who's first book was The School for Talking Pets.
11-year-old Hadley Boggs lives a simple but happy life with her father and Mr Beaks (their budgie) in a caravan by the sea. When 7 strangers turn up on their small door proclaiming Hadley's dad to be King of a small country in Europe, the 3 of them are soon whisked away from their Australian home to the wonderful and weird land of Ludrovia, where cheese is bountiful and goats dance annually!
Hadley quickly falls in love both Ludrovia and its inhabitants, so when she uncovers a plot by the suspicious and hair-fixated president to sell the small country to a cheese obsessed Texan billionaire, Hadley knows it's her duty now as princess to stop the transaction! With the help of her new friends, an odd maid, and an ancient prophecy, along with some harmless breaking and entering… will Hadley be able to uncover the truth and save all of Ludrovia or will her newfound friends and their beautiful country all be turned to ruin?
Through Birdbrain, Hawkins writes some very powerful messages about privilege, ableism, appearances, power, and responsibility, while still maintaining the book's light and fun premise. The reader is shown that good and bad are not always as clear as we often presume, and that there is great value in teamwork (even with people we may have differences with).
Much like Hawkins' first novel The School for Talking Pets, Birdbrain is an entertaining and light read with a wonderfully ridiculous plot that draws you in and some thoughtful and quite insightful themes that keep you reading.