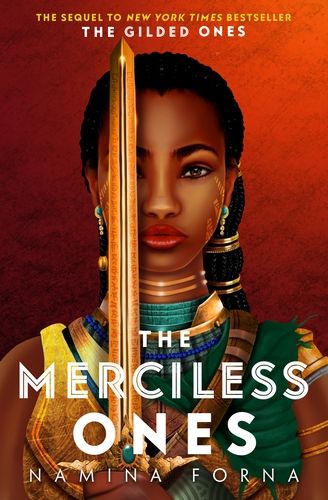 The Gilded Ones #2: The Merciless Ones
By Namina Forna
Reviewed by Caeleigh Hancock
Namina Forma is a Sierra Leonean American and young adult author based in Los Angeles.  Her debut novel The Gilded Ones was published in 2021.  The Merciless Ones  is the sequel to The Gilded Ones, however, it can comfortably be read as a self-contained standalone story.
The Merciless Ones is a West African-inspired fantasy that continues the story of seventeen-year-old Deka, also known as Nura, the only full-blooded daughter of the mother goddesses.   The mother goddesses have tasked Deka with leading a group of warriors on a mission to free other gilded ones who have been trapped and enslaved inside an impenetrable walled city by the Jatu, the male worshippers and warrior descendants of the god Oyom.  To succeed Deka must discover the truth of who she can trust and master both her evolving powers and her self-doubts.
The mythical world of Otera and the magic it contains is imaginatively and engagingly described and gives the story a rich backdrop.  The story has many twists and turns to engage the reader and keep them guessing about whose side the characters are really on and what hidden agendas they may have until near the end.  However, there are a lot of side characters which makes the book difficult to track at times and means that it is difficult to get a good sense of all of the characters and relationships.
Ultimately this is an empowering story about gender equality, pointing out the issues that can arise when either gender dominate a society and the narrow gender binary thinking that can trap people in strictly defined roles.  Overall, the story is imaginative, engaging and thought provoking whilst not tipping over into being overly moralising.
It does open with a graphic scene describing young female corpses.  The warning on the title page advising that the book includes scenes of violence, including some graphic violence and descriptions of sexual assault should be heeded.  For all these reasons  this book is suitable for older young adult readers only. The publishers advise age 14+.