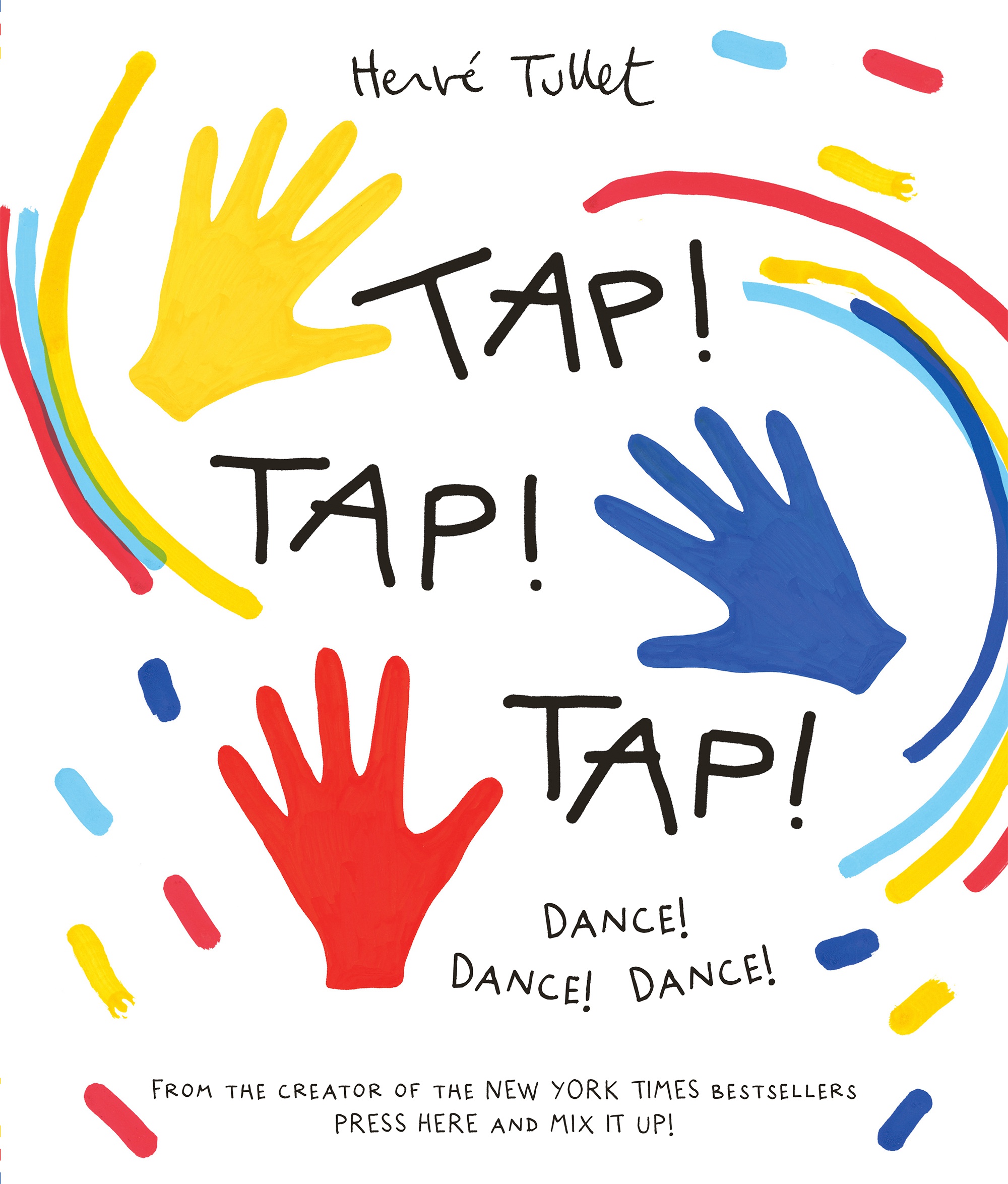 Tap! Tap! Tap! Dance! Dance! Dance!
By Hervé Tullet  
Reviewed by Lara Cain Gray
Hervé Tullet's interactive picture book, Press Here, was ahead of the curve when first released to delighted readers in 2010. It's now quite common to find these 'meta' books on our shelves; titles that break the fourth wall and instruct the reader on how to activate the story. Tap! Tap! Tap! Dance! Dance! Dance! is the latest addition, inviting the reader's hand to become a dancer, with the book a dynamic dance floor.  Unlike many interactives, there are no pop ups or pull outs, just bold colours and carefully orchestrated directions.
Using only four colours, the 'dance' unfolds via dots, swirls and handprints. Readers are encouraged to use palms and fingers to trace, wiggle, tap, whoosh and zip around the pages. The approach cleverly helps children feel comfortable with the unusual format by providing clear instructions, but then gradually encourages experimentation.
Like others of Tullet's books, Tap! Tap! Tap! is whimsical, deceptively simple and very accessible. All his books have been released in multiple languages, and probably move quite smoothly between cultures, having no particular characters, settings or storylines to trouble translators. They can be read by, or to, young readers, including pre-readers who could create their own activities even if the text itself is not understood.
Logically, this book does not feel quite as memorable as Press Here, and the instructions are more convoluted, as is the title! It might even work better as a companion to, or extension beyond, Press Here rather than a first example of the genre. For the right readers, though, who are keen to explore something outside standard narrative picture books Tullet's work can't fail to entertain.
Published (in Australia) by Allen & Unwin, 2023.