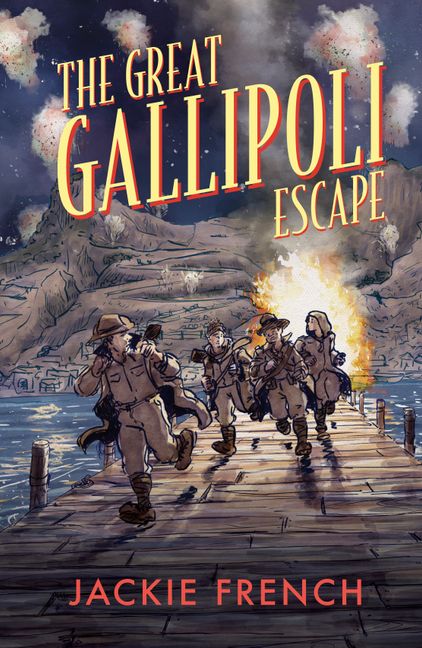 The Great Gallipoli Escape
By

Jackie French
Reviewed by Mia Macrossan
Nipper  lies about his age to join the army and do his bit for King and Country. He and his mates are in Gallipoli having a cricket match with the Turks during a brief ceasefire before the grim struggle to hold on to hard won territory begins again. This is how Jackie French, a veteran author of gripping historical novels opens her account of how 150,000 men were secretly moved to waiting ships without a single life being lost.
The word comes to Nipper and his mates, Lanky, Spud, Bluey and Wallaby that they are leaving but it all has to happen in secret as those in charge don't want to alert the enemy. So they don't know how or when. Meanwhile they cope with the dirt, flies, rain, snow, cold, the truly terrible food and the primitive sleeping arrangements as well as enemy fire and hope to survive.
Jackie is a realist –  she doesn't sugar coat the conditions or the varying moods of the men. There is a touching incident when Nipper goes down to the beach and meets Joey, a twelve-year old boy, one of Mr Churchill's boys. Apparently Churchill promised that every Borstal Boy who volunteered to fight would have his conviction records torn up when they got back to England. The two boys enjoy a moment of connection as they share their dreams of life after the war is over just before Joey is killed by a stray bullet.
Young readers will enjoy the visceral immersion, the meticulously described sounds, smells, taste, and touch that defines each incident as the details of the escape gradually unfold.
As always this novel is based on extensive research. Each chapter is prefaced by a short extract for a contemporary source, usually diaries, letters, oral histories and memories, often with a humourous take on life in the trenches, but one that showcases the truly appalling conditions the soldiers endured. Their courage and perseverance as well as their laconic humour have been justly celebrated. As Jackie says in her Afterword: 'the Gallipoli spirit implies someone who doesn't give in, even against appalling odds, sacrificing for others, not themselves, mateship, not selfishness.' p186.
Essential reading for anyone who has read the novel are the 30 pages of Author's notes full of extra information, comments on sources, illustrations of the inventions – the periscope and drip rifles and more, but no map of the area which would have been helpful.
This engrossing read with its powerful themes of mateship, war and survival is highly recommended for school libraries, and anyone interested in this chapter of Australian history.
Excellent classroom resources are available for teachers and interested readers.