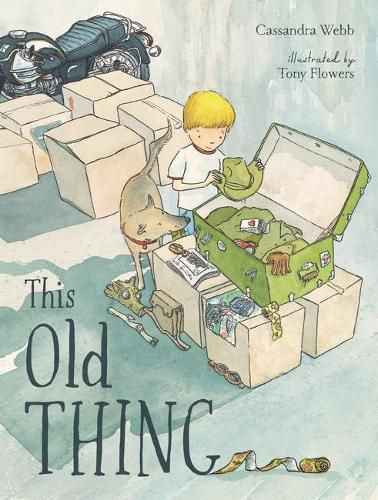 This Old Thing
By Cassandra Webb
Illustrated by Tony Flowers
Reviewed by Sarah Custance

Australian author Cassandra Webb has teamed up with the wonderful illustrator Tony Flowers to create This Old Thing, a poignant historical picture book.
We follow a young boy as he searches his house for something old to bring into class for ANZAC day. As he finds an old green army chest, he begins to explore all of the objects and papers found inside and learns about the man  the items belonged to and the time that the items were being used (WW1).
While the young boy has fun looking through the chest and playing with the different items, he quickly learns about the past and his connection to it. As the story comes to a close, we discover that the items in the chest all belong to his great-great-grandad and see that the boy now feels a bond between them.
This is a beautifully told story in both narrative text and illustration. Cassandra uses a simple but emotive rhyme that works effectively with limited text to draw you into the book. A unique part is how the illustrations show two sides to the objects being examined and played with, on one side of the page is the young boy as he is discovering an item and on the opposite page, we see how that item is used in the war. As the story continues, the pages begin to merge together as the boy is drawn more to the past, until the last page has only one illustration of the past and present together.
This clever and thoughtful historical picture book  was clearly well researched and thought about to have been carried out so well. The title is so apt as it highlights how often old, neglected and maybe despised objects can have a wealth of meaning and significance once their history is understood. This Old Thing is a picture book that can be read time and again with children pouring over the illustrations to see what they have missed.
It is a must have for any library, school, or general history enthusiast.
NEWSFLASH! This Old Thing has been long listed in the