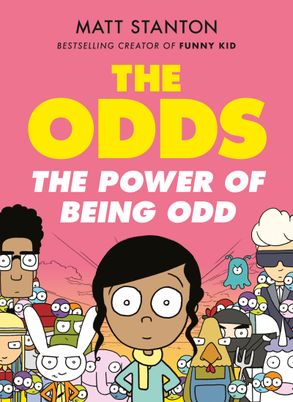 The Odds: The Power of Being Odd
By Matt Stanton
Reviewed by Sarah Custance

Matt Stanton is the bestselling author of the Funny Kid series along with dozens of others, ranging from picture books to middle-grade novels. The Odds is Stanton's first delve into the graphic novel genre, The Power of Being Odd is the third and final book in The Odds series.
Kip, her dad, and all of the Odds find themselves kidnapped by The Woman in the Suit and trapped inside the Imaginatorium, that happens to be Kip's entire imagination. While being trapped isn't great, being in the Imaginatorium does mean that the Odds all have a chance to go back to their own worlds, they just need to find the right doors, easier said than done in a place with never ending possibilities.
Filled with weird and wonderful rooms, locked doors containing secrets, wonderful new characters, strange creatures called Fears and the even stranger Dots. Will the Odds be able to find their way back to their own worlds and will Kip be able to crack the code of her own imagination to escape?
Done entirely in black and white illustrations, this latest (and final) book in The Odds series wraps things up quite nicely for each character while still leaving room for future adventures if Stanton so chooses. Aimed at younger readers, The Power of Being Odd will continue to delight fans of The Odds with wonderfully silly jokes and puns, a new world to explore, new characters to meet, and, as always, complete and utter chaos! Quick and easy to read, The Odds series is perfect for graphic novel beginners and fans of anything weird and, to be honest, odd.