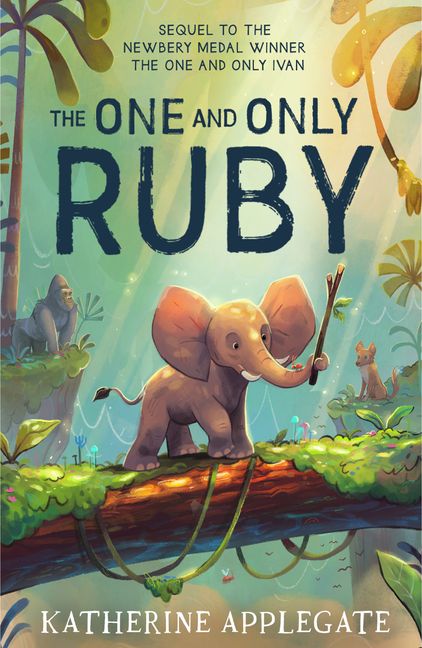 The One And Only Ruby
By Katherine Applegate
Reviewed by Sophia Evans
The One And Only Ruby by Katherine Applegate is a heart-warming follow up to her Newbery Medal – winning The One And Only Ivan, about a gorilla kept in a cage in a mall for 27 years, and its sequel The One And Only Bob. Full disclosure, I have not yet read The One And Only Bob but I didn't feel that anything was missing between Ivan's story and Ruby's. I will soon be adding Bob's story to my ever growing to-be-read-pile.
Ruby, the star of this book, is the adorable baby elephant we fell in love with, in The One And Only Ivan. This verse novel explores her first-person point of view (or is it first-elephant point of view) in the delightful way that only Katherine Applegate knows how.
Ruby lives with her adoptive herd in a sanctuary, in a pavilion right near Ivan. With regular visits from Bob, of course. When Ruby's tusks come in, the herd gets excited. But not Ruby. At first, we are not sure why Ruby doesn't like her tusks, but as the story unfolds, we learn more about her life on the African savanna, before she met Ivan and Bob.
Ruby talks about her worries with her best friends, remembering her life before the sanctuary. She is also guided in elephant traditions by the matriarch of her herd, Aunt Akello. But will sharing her story help Ruby find the courage to face her 'Tuskday'?
Again, Applegate uses the chapter headings to weave tiny details into the story. Paired with the gorgeous internal illustrations by Patricia Castelao, this book is just as enchanting as the previous ones.