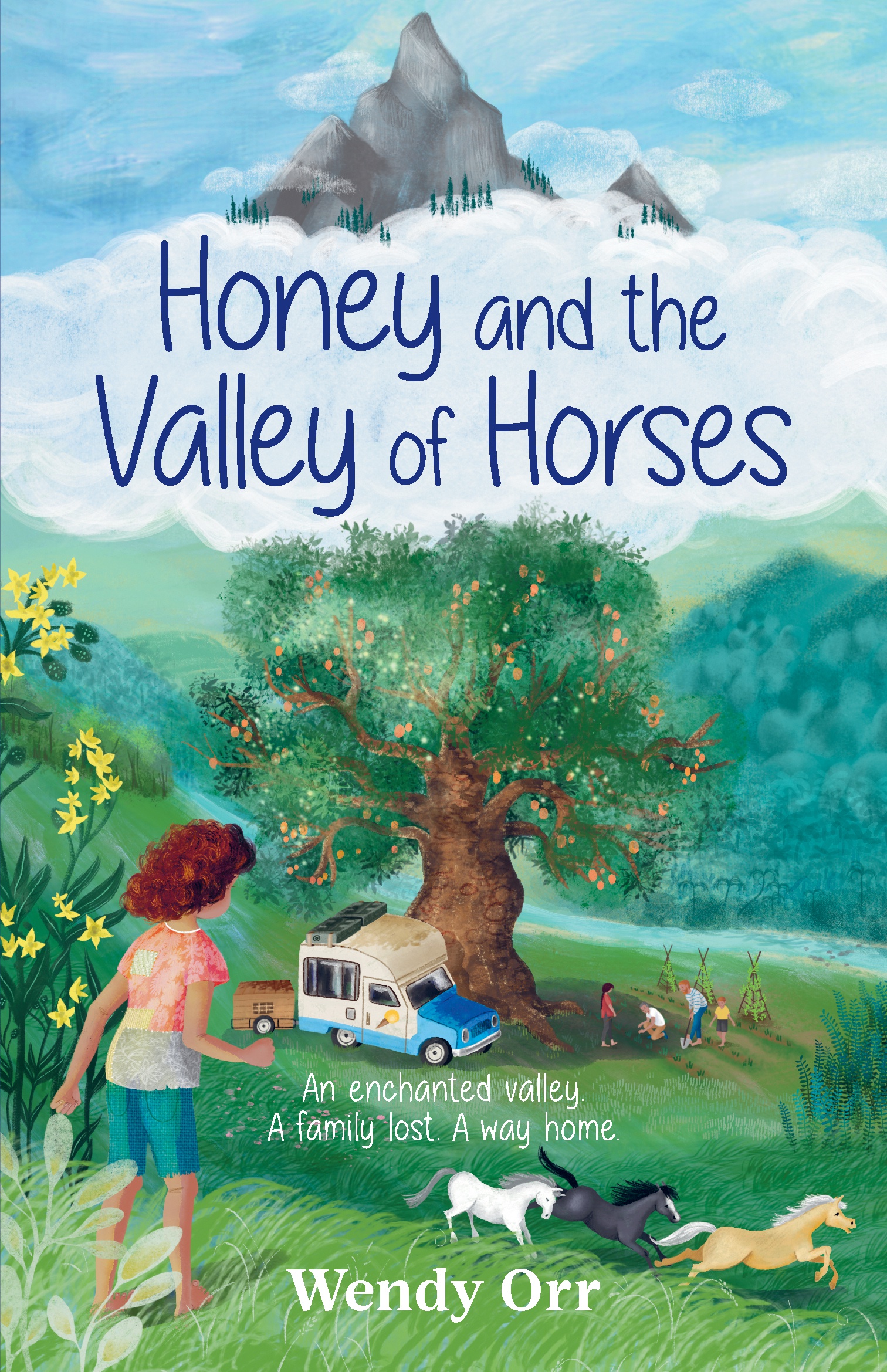 Honey and the Valley of Horses
By Wendy Orr
Honey and the Valley of Horses is a beautiful, outdoorsy adventure for middle grade readers by the multi-award winning author of Nim's Island and Dragonfly Song. Set against the backdrop of the pandemic, it is a story where the magic of horses (that every horse lover instinctively knows) is celebrated, along with strong family relationships. 
When Honey was four years old, her family escaped the city in their ice-cream truck (converted to a camper) because people were dying from a new illness and 'this sad old world' didn't feel safe. They followed a herd of exquisite horses into a secret valley – and then the track behind them disappeared, and they couldn't leave.
Honey, now eleven years old, loves her life in the valley with her Papa, Mumma, NanNan, little brother Rumi, and their chickens. Along with lessons and chores, there are plenty of opportunities to explore the valley when the horses visit and invite them to ride. But the adults remember family and friends left behind and ache to know what has become of them. And when Papa falls desperately ill, the adults despair of ever finding their way back to the outside world.
Honey and Rumi, however, don't lose faith in the valley's magic – they are certain it is connected to the horses, and the horses have proved themselves faithful protectors. Honey must now trust them like never before and follow them out of the valley to find medical help and save her father.
Wendy Orr has written over 40 books (which have been published in 29 languages) and her craftsmanship shines in this story, which keeps the pace flowing without being afraid to also linger in the details – like the not-as-bad-as-rotten-fish-but-pretty-close smell of the septic waste tub being emptied, or the feeling of relaxing in a hot mud pool before rinsing under a cool waterfall.
Honey and the Valley of Horses will be enjoyed by children nine years and older who loved Alison Lester's The Quicksand Pony and The Snow Pony and by readers who want a story which gently explores growing up during the pandemic, like Emily Gale's The Goodbye Year. It follows a long tradition of children's horse stories celebrating the beauty of the Australian landscape (from Elynne Mitchell's 1958 novel, The Silver Brumby) and brings this joy to a contemporary audience.