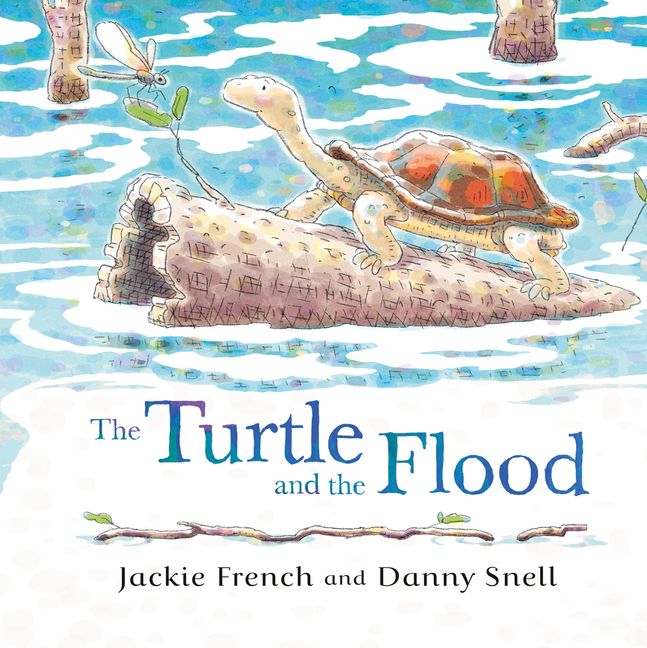 The Turtle and the Flood
By Jackie French and Danny Snell
Reviewed by Mia Macrossan
Jackie French writes across all genres — from picture books, history, fantasy, ecology and sci-fi to her much loved historical fiction for a variety of age groups.
Her previous collaboration with Danny Snell was for The Fire Wombat, also reviewed in StoryLinks, featuring what is possibly Jackie's spirit animal, the wombat.
Here they have teamed up again to produce The Turtle and the Flood, a story illustrating how some animals, in this case a turtle, can accurately predict the weather and how that affects all the other animals around them.
Myrtle the turtle lives by the creek. Every summer she swims in the waterholes, eats moths and tadpoles. Every winter she sleeps among the dry leaves under an old log. One day the water rises just slightly, even though there has been no rain. Myrtle senses the giant flood that is coming long before other animals or humans have any idea.
When she starts climbing slowly out of the waterhole going for higher ground all the other animals realize that there is going to be a big flood. Days later there is a storm,  marvelously illustrated by Danny Snell  and vividly described by Jackie French. When the rain stops Myrtle stretches out her long neck, feels the air and begins her long walk down to the creek.
The restrained yet lyrical prose is beautifully amplified by the the digital images which use soft bush colours to show Myrtle and her world. The author's note at the end is full of extra fascinating information such as turtles will climb uphill out of the flood's reach exactly ten days before a flood.
Both informative and suspenseful, this is another winner for this talented team.