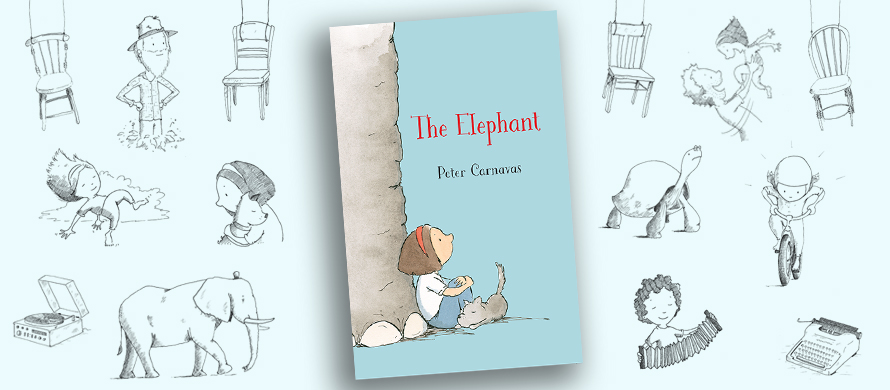 StoryLinks interviews PETER CARNAVAS
by Mia Macrossan
Peter Carnavas has been wr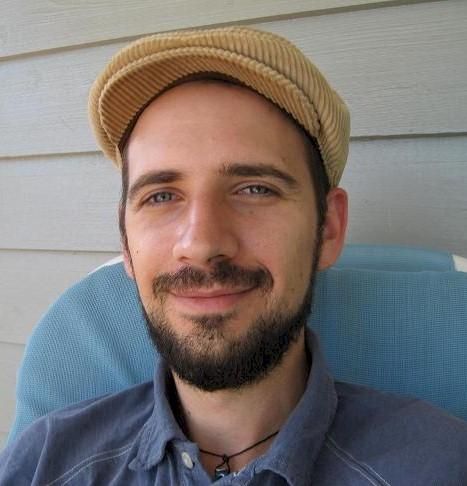 iting and illustrating his own and others works, now numbering over 20, since his first picture book, Jessica's Box came out in 2008. Before that he was a primary school teacher in Queensland. He lives and works in the Sunshine Coast hinterland with his wife, two daughters, a dog called Florence and a cat named Harry Potter. Last year we were all excited when he produced his first novel for young readers, the CBCA Shortlisted The Elephant, which is the story of a girl named Olive and an unwelcome elephant that nobody else can see.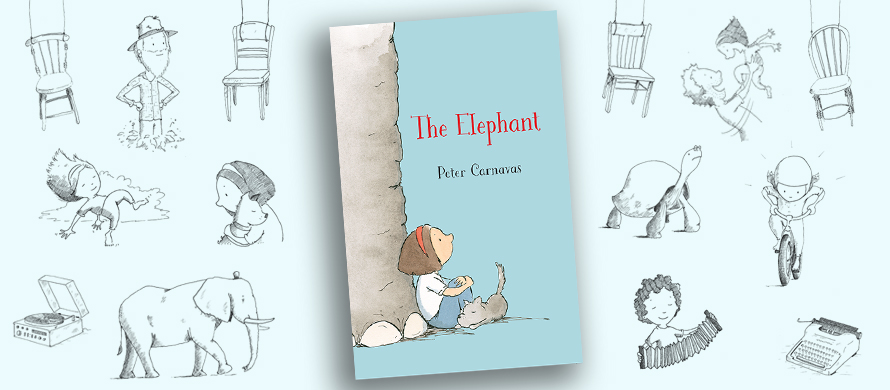 It has been warmly embraced by the children's literature community. In my Reading Time  review I described it as There is much to enjoy and savour here: a rich theme, carefully realised characters, delicate line drawings, a satisfying story, gentle humour and sensitive careful language. The words and pictures and the attractive design of this book combine to create a little gem for young readers to enjoy and treasure.
Peter was kind enough to take some time to answer some questions about his work.
When did you realise you wanted to be a writer and illustrator? What came first? I can't remember writing and illustrating ever being separate for me, so I can't say if one came before the other.  I had always scribbled pictures and written short stories as a hobby, but I became interested in making picture books after a few years as a primary school teacher.  I was quite inspired by the books I was reading to my classes.
What is more important to you – writing or illustrating? Again, it's tough for me to separate the two.  I enjoy both for different reasons, but I probably encounter more challenges when I'm illustrating.
What was the first thing you wrote?  The very first thing I wrote was probably a plagiarised version of Eric Hill's Spot the Dog series.  I still have a diary I kept from when I was five years old, in which I write about Stevie Wonder and soccer.  And I have a book I made when I was six, called My Turtle Likes to Bite My Finger.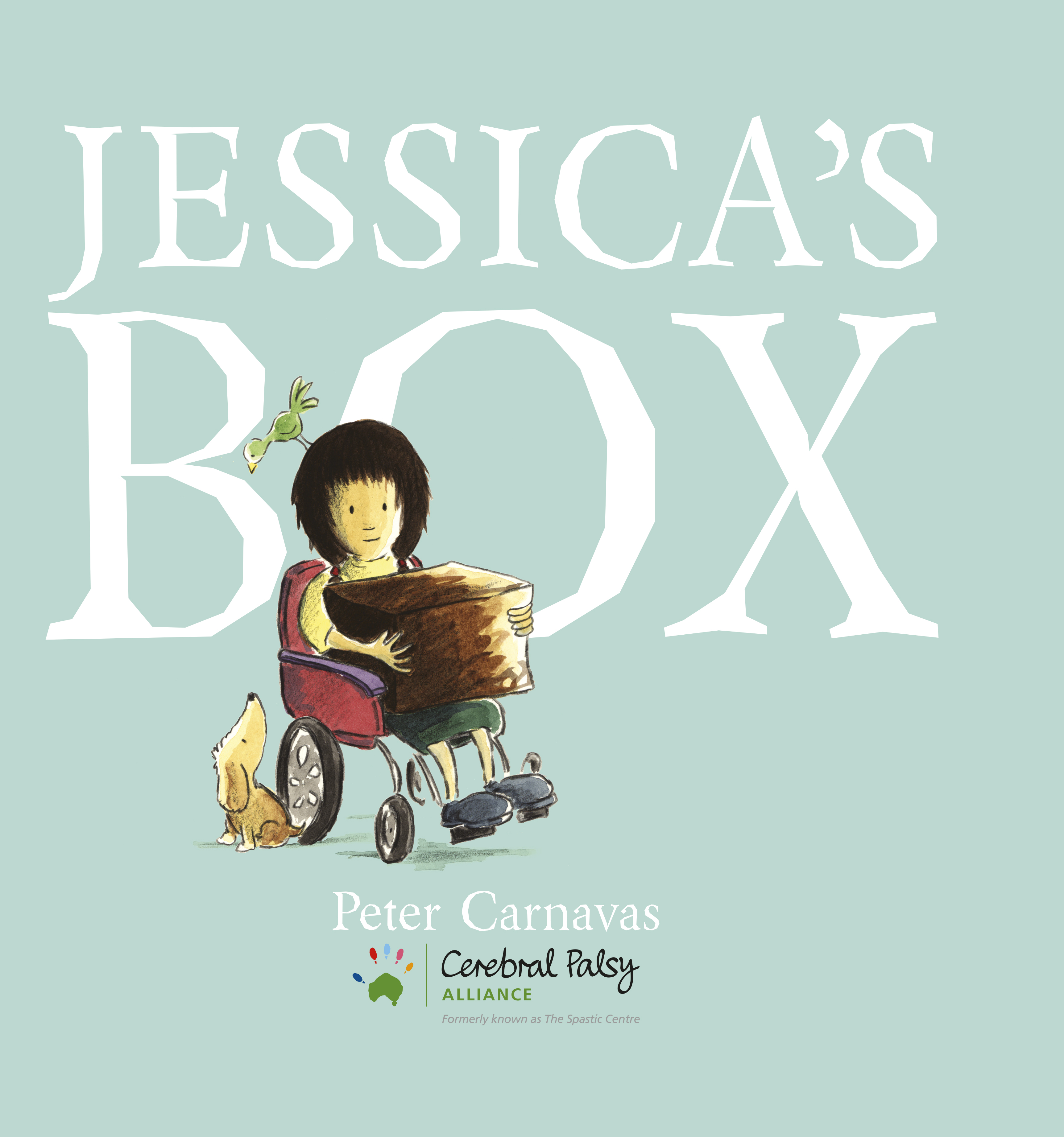 How did you get published? It was pretty straightforward, really.  I spent a few years trying to improve my illustrations.  At the same time, I completed an e-course with Dr Virginia Lowe, about making picture books.  When I was ready, I stapled together a rough copy of Jessica's Box, posted it to the publisher, and a while later, I got the call.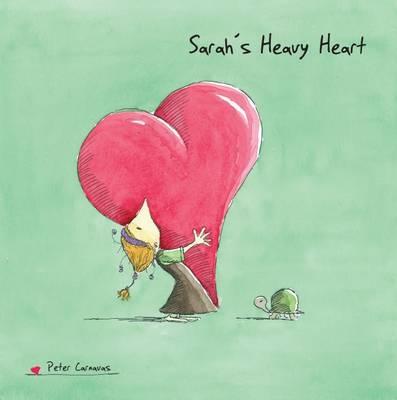 Do you have a favourite book apart from the last one you wrote? My favourite book is always the last one, but I have a soft spot for Sarah's Heavy Heart.  It's a neat little story, but dreamy, too.
Illustrating a book that another person has written – how does that differ from illustrating your own work? Is it easier? More difficult? I mean you don't have to worry about the story as that is all done for you. It's true, I don't have to worry about writing the story, but it can be tricky illustrating something I haven't written.  At first, I find it difficult, for when I write for my own pictures, I (sometimes subconsciously) write what I can draw.  Another author won't necessarily think like this, and in the end, it's great, because it challenges me to draw things I wouldn't have ever drawn otherwise.  Working with Damon Young is great for this – I think he quite enjoys challenging me now and then.
Was there a book that was difficult to write? Why was it difficult? 'The Elephant' was difficult to write but I loved it at the same time.  As it was my first attempt at a novel, it took me a while to get used describing things a bit more.  I'm so used to cutting words back and letting the pictures do the job.  And I spent a long time making sure little things made sense, especially the characters' motivations.
What made you decide to write The Elephant? How did that story come about? It is not an easy subject for this age range. I never thought too much about the subject or theme.  I don't know if authors think about that too much.  I know I don't.  For me, it started with the characters.  I wanted to write about a young girl who cheered people up, especially the grown-ups in her life.  I was also inspired to write a lovely grandfather-granddaughter relationship.  That's my favourite dynamic in the book.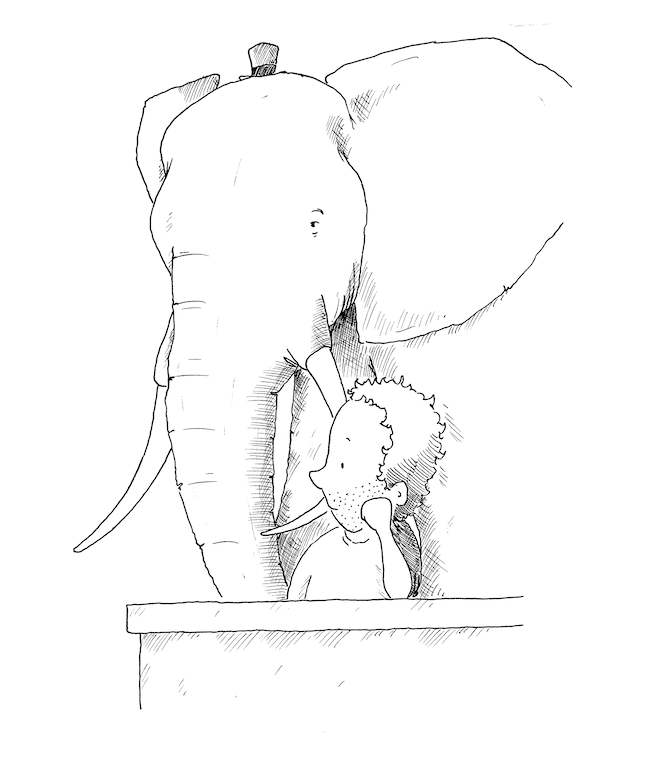 What is The Elephant about? The Elephant is about a girl called Olive, who lives with her dad and her grandad.  Her grandad does many wonderful things for Olive, but her father is weighed down by sadness.  Olive imagines his sadness is a big grey elephant that follows him around.  So, with a little help from her best friend, Arthur, and her sparky grandad, Olive sets out to chase the elephant away and cheer up her dad.
Was it a conscious decision to have a female protagonist concerned about her male parent? No, not at all.  Olive, Grandad, and the dog, Freddie, were wandering around in my head for years before I slotted the sad father in the middle.
There are three important males in Olive's life – her dad, her grandad and her friend Arthur. Olive has no Grandma or female friend. The only other notable female character in the story is the delightful school teacher, Ms. March. Was that a conscious decision? Again, I didn't think too much about this.  I did like the idea of the two male figures marvelling at the wisdom of the young girl, but gender roles didn't feature too much in my thoughts, apart from wanting a strong, determined girl.
Are any of these characters based on a real person? If anything, the three main characters are a bit like me.  I would love to be like Grandad when I'm older, I have the capacity to spot small moments of beauty like Olive, and I can certainly trudge around with an invisible elephant dragging me down.  I can see aspects of my own daughters in Olive, too, especially when she's thinking deeply in the tree or on the trampoline.
In the book Olive's dad suffers from depression which Olive sees personified as a big grey elephant that fills the room. How did you decide on the type of animal? Depression is often called 'the black dog' – how did you come up with an elephant? The heaviness of the elephant is what appealed to me.  They are such beautiful emotional creatures, apparently capable of grief, so I thought it was a good match.  As for the tortoise, they are similarly beautiful, move so slowly, and I really just wanted to draw a tortoise.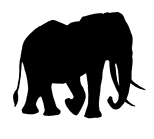 I love the way you use colour in the book – grey elephant, purple backpack. Here is a sentence from the chapter Side by Side: 'She laughed a bit at the simple beauty of it all – the white paper, the elegant arc, the soft green grass; and beside her, the purple backpack, Grandad's golden-straw hat, the sky a pale-blue umbrella embracing the whole town.' p 32. This is an artist's sensibility. Was this use of colour something you consciously put into the book or did it just happen? What is your relationship with colour? Do have a favourite colour? Is it important in your life and carefully choose what goes with what? I used colour in the story to counter the greyness of the elephant, or the depression.  This idea pops up throughout the book, especially through Olive's adventures with Grandad.  In terms of colour in my own life, I don't place too much importance on it.  My wardrobe doesn't vary from navy blue, greys and browns.  I promise I'm not quite as drab as that sounds.
In the book you demonstrate an obvious love of old things, typewriters, accordions, record players, skateboards. It is more than a plot device. Were there things that you desperately wanted to put in and couldn't or did you have to think hard about how to move the story along? Yes, I'd love to just write chapter after chapter about the old and wonderful things.  As it is, I did manage to get some of my favourite ones in there.  The record player, accordion, mandolin and typewriter are all things of my own, so I'm going to have to buy some more old things as inspiration if I write another novel.
You play and sing and your love of music also comes through in the story. You do know many songs I am sure. What made you choose Side by Side? This was a song I loved singing with kids when I was a music teacher.  I love the rolling feel of the lyrics, and the chord progression is beautiful, especially in the middle eight section – 'Through all kinds of weather…'.  It's also a lovely representation of Olive's relationship with Grandad.
Do you listen to music when writing and illustrating? What kind of music? I can't listen to music while I'm writing – it disrupts my ability to play with words in my head – but I always listen to music when illustrating.  I like a lot of different music – old jazz, 60's folk, all the indie bands from my teens and early twenties…
'Everything looked neat and colourful from up here, but life was a bit grey and untidy once you were down there; once you climbed down the tree and shared the house with an elephant.' P 64. There are many themes or messages you could think about when reading this book. I love the pigeon chapter – not all pigeons are grey, (some have rich greens, golden yellows and deep purple). Are there any themes that are especially important to you? I guess I like the idea that we're all bit complex.  Sometimes we're colourful, sometimes we're grey, sometimes we're full of energy and sometimes an elephant weighs us down.  The important thing for me is how vital it is to have people around that pick us up when we need it.
What are you writing/illustrating at the moment? I'm working on a picture book of my own called A Quiet Girl, about a quiet girl trying to be heard in a noisy world.
I am sure we are all looking forward to seeing what the future holds for The Elephant. Meanwhile there are plenty of other books by Peter Carnavas to enjoy – have a look  https://petercarnavas.com/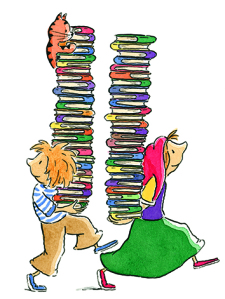 Peter  is  available to present talks and workshops at primary schools, libraries and festivals.  Sessions involve illustration, writing tips, readings, hands-on fun and the opportunity to ask me questions.  His favourite question (so far) is: Do you scratch your beautiful beard when you're thinking of ideas? For booking information please contact  Speakers Ink.