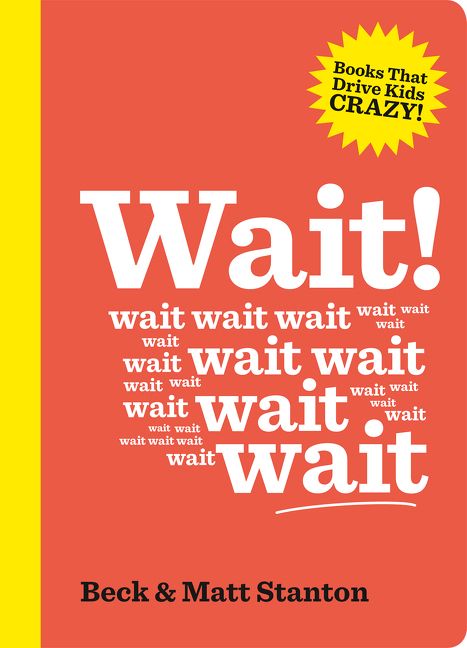 Wait! (Books That Drive Kids Crazy, Book 4)
by Beck Stanton
illustrated by Matt Stanton
reviewed by Renee Hills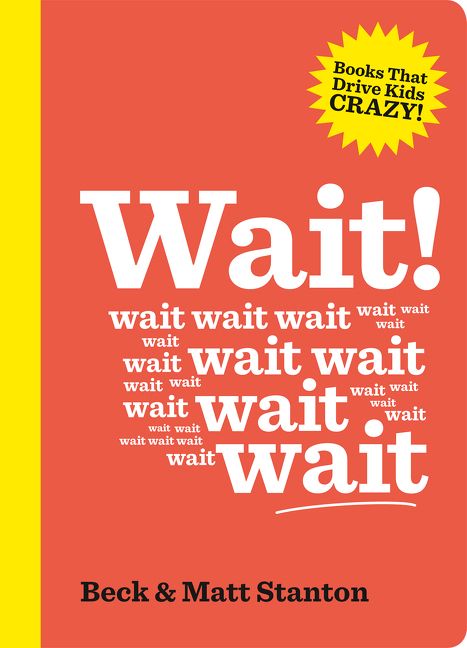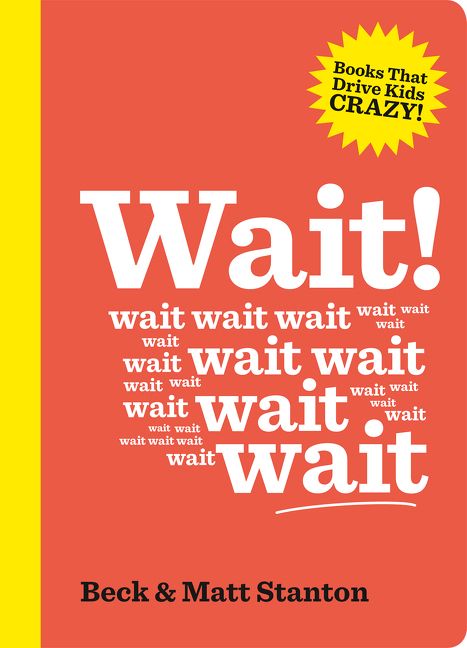 Wait! is the fourth in a series of picture books by Beck and Matt Stanton that are billed as Books That Drive Kids Crazy! Other titles include This is a Ball, Did You Take the B from My _ook? and The Red Book. All the books have a colourful distinctive design.
Like others in the series, Wait! is designed and written for younger readers. Everything from the bright primary colours, the matt finish heavy board covers and the clean outline illustrations should appeal to toddlers and pre-schoolers. The simple text takes a wry, self-deprecating look at the adult admonition of 'Just wait a minute, while I do this'; that oh so familiar situation of every parent, trying to finish the mundane tasks of living while responding to the needs of a small child.
Colour brightens every page. The end pages are a happy yellow. The text appears on every left-hand page on a background primary colour; blue, followed by aqua-green, then red with this pattern repeated throughout the book until the climax, three pages from the end when a kaleidoscope of the word wait is printed on white double page spread again in the primary colours of red, blue, yellow and green.
Matt Stanton's illustrations are often simple black lines on white pages or with primary colour infill. Some motifs are repeated from other books in the series, e.g. the princess on the second last page of Wait! also features in This is a Ball. Beck Stanton's text is written in a conversational style; a one-way conversation by the adult reading the book and responding to a small child's likely responses. The font is large and varied and invites recognition and repetition of specific words and phrases e.g. "I'm booooored!" or 'You're so mean!' This is a book that young children could grow to love because of the potential to become involved in the reading.
While Wait! would definitely have a place in a three-year old's bedroom, Harper Collins have created Teacher Notes that also makes the book suitable for use in a Prep or Year 1-2 classroom as well. Concepts investigated include: ideas, language, colours, writing techniques such as punctuation and onomatopoeia (yes they teach this to Year 1 students now!); different food types, shapes, emotions, and physical activities. Wait! is in fact, a deceptively simple package of rich teaching resources and a starting point for discussions about life skills and relationships. This ensures the book a wider readership and its quirky conversational style will win the hearts of young picture book readers.
Harper Collins Australia 2018, picture book,  hardcover  $19.99, ISBN 978 0 7333 3797 0