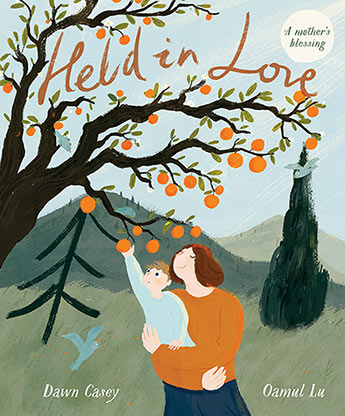 Held in Love
by Dawn Casey
illustrated by Oamul Lu
reviewed by Lucy McGinley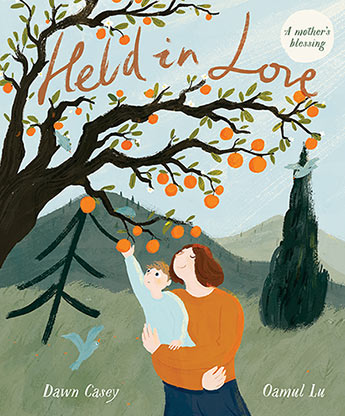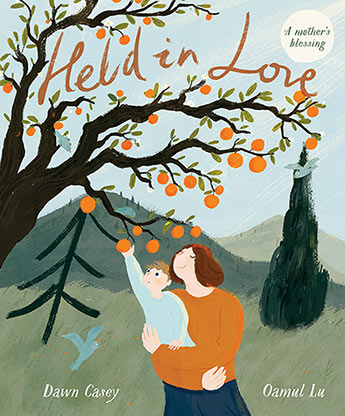 This illustrated blessing, Held in Love, is the perfect gift for new parents.
The author and illustrator will charm you with their peaceful book about unconditional love. Held in Love would be just right to read at bed time and quiet or emotional times. Described as a mother's blessing, this book and the associated closeness will strengthen the bond between mother and child.
The author, Dawn Casey, develops intimacy by beginning with the big picture of a galaxy glowing within the universe, bringing us closer and closer until like the bird on the window sill we are looking through the window of a cottage in a small village at a mother holding her baby as she reads.
Oamul Lu's illustrations echo this feeling of being drawn in close, safe and cosy, with warm colours and soft outlines. On the huge turning world, we are shown the idyllic village and follow the birds in closer, eventually to their own nest of chicks in a tree by the cottage.
Now the intimacy is established we see the child move through life skipping and leaping, giving and receiving, growing more independent but always loved.
There is a poignant moment of silence when the older child is poised ready to step out, the cottage is still there for him, warm fire burning, but the branches of the fruit laden tree draw us away, ready to turn the page of life. Free to grow and look to the stars but always loved.
I can see babies fresh from the bath bundled into fluffy towels and then pajamas, cuddled up close as they are read this blessing. Maybe an older child will revisit this book in emotional times, as a tool to help them find calmness, to relive the pleasures of a simpler time or to find their silence before they too step out and look to the stars.
Frances Lincoln Children's 2018 , Picture Book, Hardback $21.99, ISBN 978-1-78603-067-2