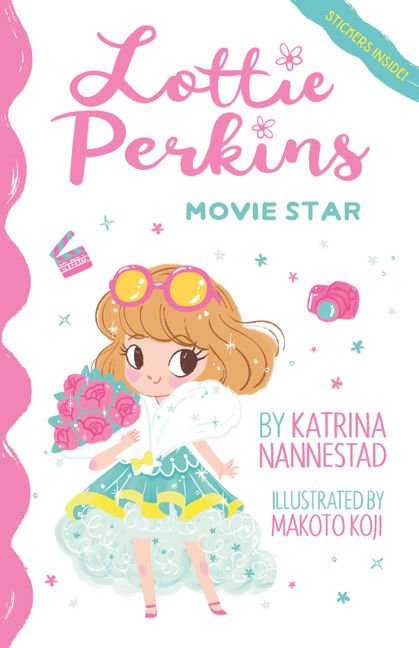 Lottie Perkins, Book 1 and Book 2
Written by Katrina Nannestad
Illustrated by Makoto Koji
Reviewed by Danielle Freeland
Katrina Nannestad has delivered a heartwarming series of first chapter books for beginner readers. An experienced author herself, Katrina has launched the series with two titles and a further two due to be released in November, 2018.
Illustrator, Makoto Koji, has brought her own humour to the books. Lottie's bubbly and optimistic personality shines through the black and white line drawings. Other notable mentions are Feta, Lottie's sweet and funny goat and Harper Dark, Lottie's arch nemesis, who has a piercing glare that reaches through the pages.
The books are sweet stories with plenty of humour featuring Lottie, a Grade 2 student who acts upon her dreams. She is motivated by a strong sense of her own achievement and feels she is exceptional. She believes she can do anything including nibbling toast into interesting shapes.
Lottie Perkins, once she's made up her mind, launches into a different career of her dreams in each series title. With little or no training, Lottie must overcome all obstacles to achieve success. The result is a humorous calamity of errors that she must solve in order to achieve her goals.
The books introduce themes of bullying in a humorous setting. Lottie must overcome Harper Dark's negative attitudes when she attempts to derail Lottie's plans. The results of this conflict bring a lot of accidental humour to the books.
In the first title of the series, Lottie Perkins, Movie Star, Lottie dreams of becoming a movie star. She begins filming with her best friend Sam. Her pet goat, Feta, who says BAA which, according to Lottie, is goat talk for you have real talent, helps her to act in her first movie. Harper Dark tries to foil her plans but Lottie  ignores her and make the movie she dreams of.
In the second book of the series, Lottie Perkins, Ballerina, Lottie determines that she will become a ballerina. To the aggravation of her teachers and neighbours, she pirouettes at inconvenient times and places. Lottie makes the classic mistakes any budding ballerina would make if they tried to bypass lessons and step into the leading role in Swan Lake. To make matters worse, Harper Dark is up to her old tricks and manages to secure the leading role. One of my favourite moments is when Feta, her pet goat, eats the back of her tutu.
Overall, the language is pitched well. There are some occasional words that may prove challenging for this age group such as exceptional, delicious, pirouette, and supersonic sausage dogs. However, the sentences are short and easy to read for a child confident with first chapter books.
The highlight of this book for me was the story linked sticker collection at the back. A fold-out laminated card accompanies the book showing three images of Lottie and a wardrobe so the stickers can be reused. Story linked outfits and costume props from the book can be stuck onto the card to dress Lottie and decorate the scene.
HarperCollins Publishers 2018  64 pages Paperback $9.99 ISBN 9780733339059