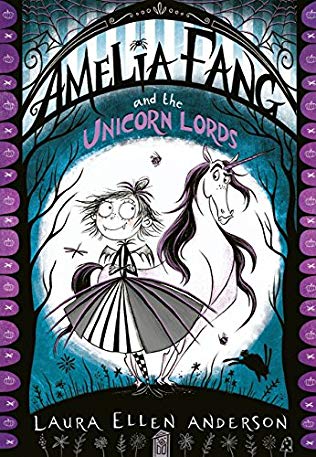 Amelia Fang and the Unicorn Lords #2 Amelia Fang series
Written and  illustrated by Laura Ellen Anderson
Reviewed by Sandy Driessens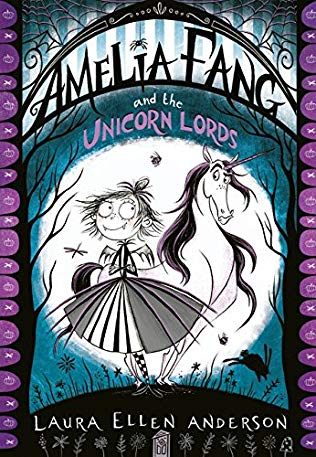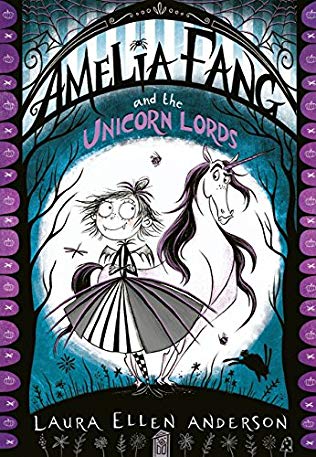 Meet Amelia Fang, a sparky little vampire in a dark and gloomy world … or is it?
With a spider, webs and a smiling Amelia Fang in scratchy black cartoons , the cover artwork announces this story as a bit scary, but it is not exactly bloodcurdling as stated in the blurb. The comical unicorn in metallic purple reduces the tension further.
Amelia Fang and her band of Nocturnians venture off to rescue Queen Fairyweather who has disappeared in the Kingdom of the Light. As with all journeys, they encounter weird and wonderful things that provide opportunities for characters to use their own special talent and to face their weaknesses.  Is this the usual Light versus Dark, Good versus Evil scenario? Maybe, but sometimes there is light in the darkness and vice versa.  It is a story of acceptance and inclusivity with the characters facing evil that comes from an unexpected source.  It is about working as a team and looking at things from a different perspective as they co-operate to overcome a threat to their world.
This book is enlivened by doodles on every page and many full page illustrations, some on black paper, reminiscent of Tim Burton's style. They are dark while maintaining a young cartoon imagery. The book starting with a map of the Kingdom of the Light and a portrait gallery of the characters is a great idea because you are introduced to a plethora of characters in the first chapter who are heading off on an adventure from Nocturnia. I had to refer to these for quite some time to clarify the characters, useful for those new to the series.
Egmont UK 2018 Paperback 219 pages $12.99 ISBN 978-1-4052-8706-7