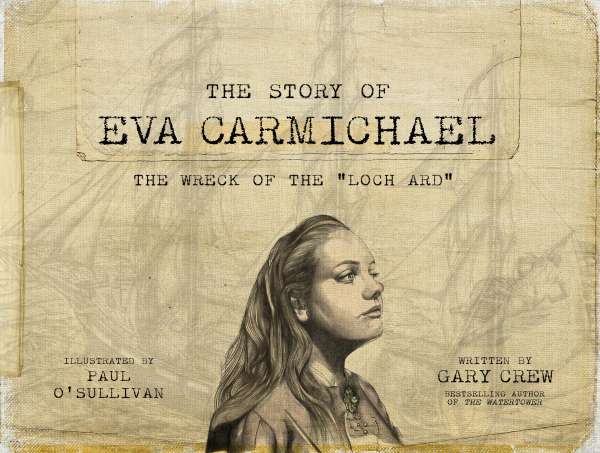 The Story of Eva Carmichael: The Wreck of the Loch Ard
by Gary Crew
illustrated by Paul O'Sullivan
reviewed by Lucy McGinley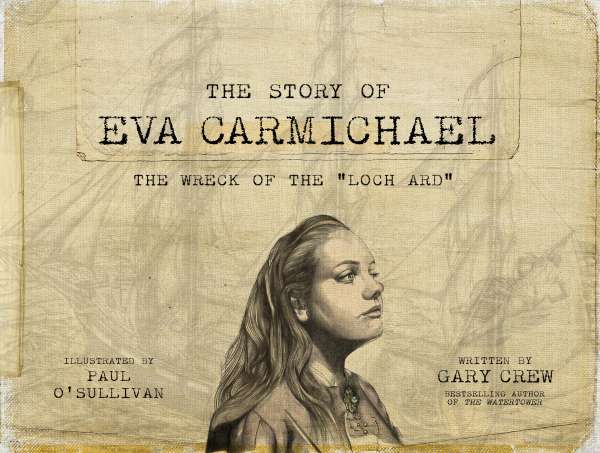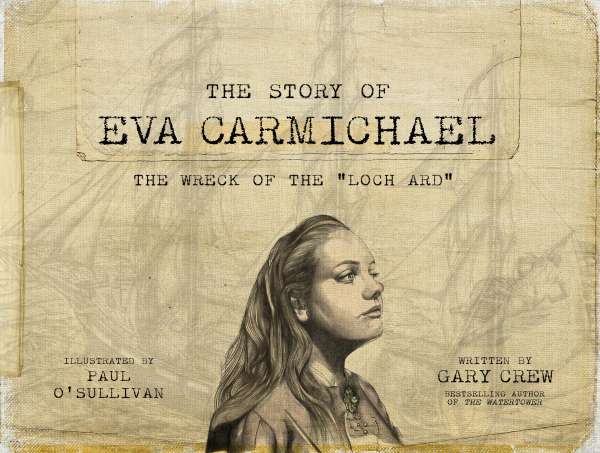 I was captivated by the tumultuous true story of Eva Carmichael, as retold by Gary Crew. This historical illustrated story is  based on the experiences of the sole female survivor of  the Loch Ard which was wrecked off the coast of Victoria in 1878. Crew interweaves  the intrigue on board a cursed ship, wrecked in the final days of its journey from Gravesend, England to Melbourne, with historical facts and rich characterisation. Our wealthy and self-assured protagonist, Eva Carmichael, the lone female survivor of the disaster is rescued by the only other survivor, a young seaman. This romantic idyll catches the media's attention and plagues Eva for the rest of her life.
The pictures of illustrator Paul O'Sullivan incorporate challenging imagery of doll's heads and wreckage, tangled in octopus tentacles. We see Eva's two young brothers asleep, with water lapping at their beds.  He uses a rather Dali-esque style with images of dripping compasses as a foreshadowing of the impending doom of the cursed ship.
By telling the story from Eva Carmichael's perspective, Crew defines her as a resilient and courageous young woman. The story is written as a truthful record of the tragedy and does not shy away from graphic descriptions of the shipwreck where Eva tells us she never saw her sisters, father or mother again for the sea swallowed them all.
Although picture books for older readers are an established genre they are new to me and I had to read the book a few times to understand its audience. Eva Carmichael sounds like quite a woman and it is fascinating to see her story retold in this way.
As a voice from 1878, the self-willed eighteen-year-old Eva would speak to mid-teens with a mature and independent approach to life seeking a romantic journey into the past. Girls who are looking for an inspirational woman will respond to Eva's bold friendship with the Captain and understand her lack of romantic interest in the bedraggled boy who saved her life.
He says:  'I have been researching accounts of Australian Colonial Castaways for some time and found the story of Eva Carmichael fascinating but rarely told and at risk of slipping into historical obscurity. This gave me the impetus to recreate her story for modern readers.' Crew brings to modern readers an example of an independent girl taking charge of her life which still resonates today and makes it a useful resource for schools as well as an interesting read for everyone.
Harbour Publishing 2018 Picture Book $19.99 ISBN 9781922134103