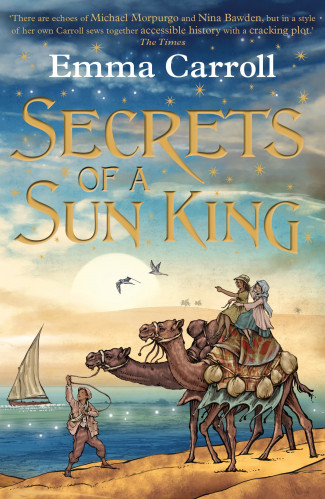 Secrets of a Sun King
by Emma Carroll
reviewed by Tyrion Perkins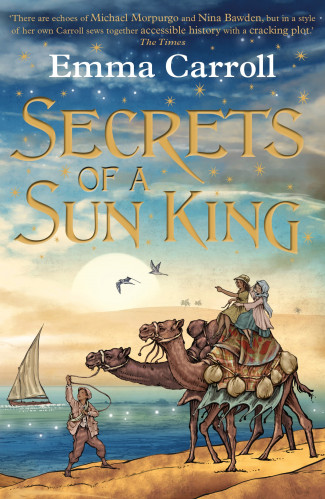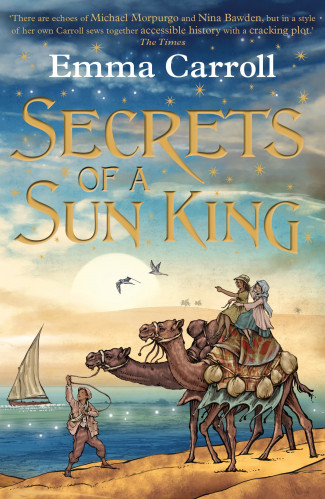 The cover immediately attracted me: children on camels in front of the Nile and desert, with a pharaoh on the back, set up the expectation of mystery, travel, and adventure. Secrets of a Sun King didn't disappoint.
In London, 1922, Lilian Kaye finds a parcel on her granddad's doorstep, sent by a famous Egyptologist. With the Egyptologist now dead, and her granddad in hospital, dying, it looks like the curse it carries will play out unless she can return it to Egypt where it belongs. Her family don't have the means, or beliefs to take her, but at the British Museum, she befriends two other children whose mother would love to report on the immanent opening of Tutankhamen's tomb. Soon they are journeying to Egypt and reading a secret and fragile diary of a girl who knew Tutankhamen as the teenager, Kyky, in his last days. There is also a subplot of missing brothers; and will the children really get away with pretending the newspaper asked for Mrs Mendoza, when they actually requested a man to report the tomb opening?
Emma Carroll writes with a warm and engaging style. She weaves in lots of historical information from the time, with impressions from her own travels in Egypt, and raises themes that would stand out to a modern audience, such as the sexism of the 1920s, and effects of the First World War on families, as well as bringing ancient Egypt to life in a personal story. I thought she was a little too against Howard Carter, the archaeologist who uncovered the tomb. The issue of whether it is right to remove the treasures from a tomb, when the people who created it meant it to stay buried, could have spoken for itself, without the characters saying several times that they didn't trust him, when there was no particular reason at the time.
This book would appeal to any child who likes Indiana Jones, the TV show House of Anubis, or any of the myriad of Egypt and ancient mystery stories or documentaries that abound. The primary audience would be both boys and girls, 10-12, but all those who love mystery with a touch of adventure should find it thoroughly enjoyable.
Allen & Unwin $14.99 Paperback 304 pages ISBN 9780571328499
Tyrion Perkins has worked in many libraries, where her favourite things are story time and finding books to suit particular children.  She writes for all ages and is currently honing those manuscripts for publication. She is active in several organisations for children's literature.