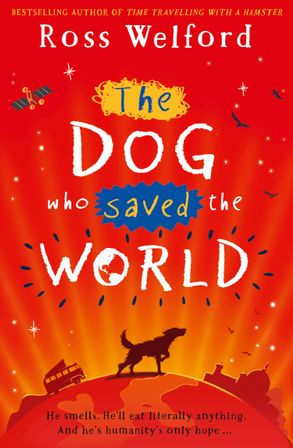 The Dog Who Saved The World
written by Ross Welford
reviewed by Mia Macrossan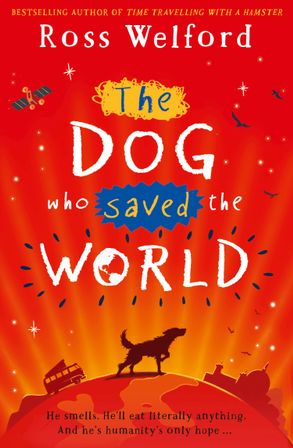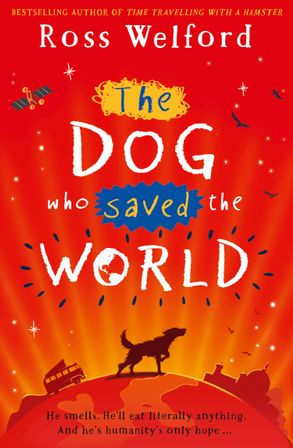 Best friends Georgie and Ramzy while at their local beach meet an interesting woman Dr Pretorius, who invites them up to her laboratory to trial her experimental virtual reality set up. Despite initial misgivings – both are very aware of the perils and pitfalls of wandering off with total strangers – the two friends accompany her and discover an amazingly realistic 'FutureDome'. Once you put the dome on your head you are in an alternate world. There is the problem of the coffee table sized scorpions that infest the system, but Dr Pretorius says they are a glitch that she will fix.
Back at home Georgie is devastated when she can't keep Mr. Mash, her dog because her dad's partner, Jessica, is allergic. She manages to get her regular dose of doggy company by volunteering at St Woof's dog home where her Mr. Mash now lives. When an Ebola-like plague strikes dogs world wide Georgie is terrified that her beloved Mr. Mash will die. Everyone else is more worried about people getting the disease.
Georgie assumes that in the future a cure will be discovered but that will be too late for her dog. Then she realizes that she can travel to the future using Dr Pretorius's Future Dome because they have proved that it is a time machine. Easy! From this point on matters become incredibly complicated for both Georgie and Ramzy. Remember the scorpions?
This carefully structured plot sweeps the reader and several minor characters along improbable adventures with great dexterity and maximum enjoyment. While very funny and always engaging the story has a strong and genuine emotional core.  It is a touching depiction of friendship, of family solidarity and love, and of compassion. It is horrifying to read that Ramzy says he comes from a place he calls 'Nowheristan', because his country has disappeared off the map having been taken over by a neighbour.
Mr. Mash really does save the world in a nail-biting climax and I thoroughly recommend this well-written romp. Ross Wellford was a journalist and television producer before becoming a full-time writer. His previous books include The 1,000 Year Old Boy and Time Travelling With a Hamster so he obviously has a thing about time. They are definitely on my 'to read next' list.
HarperCollinsPublishers Australia
$14.99 Paperback
Age from 8 years
416 pages I
ISBN: 9780008256975