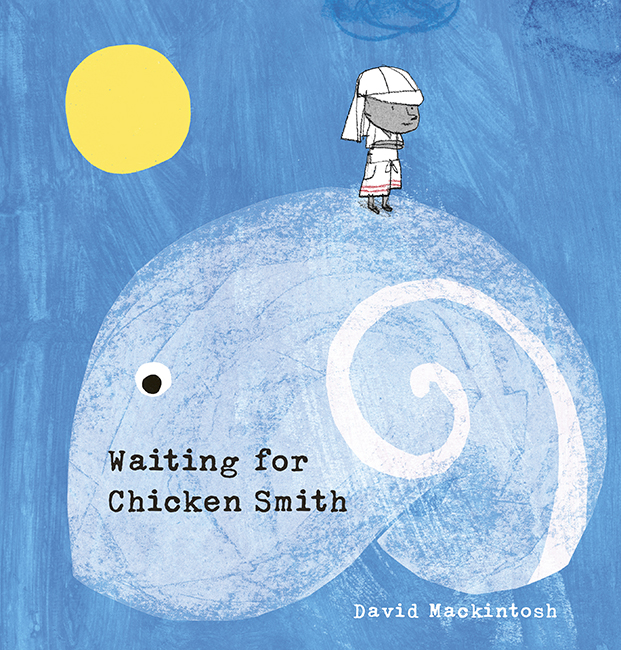 Waiting for Chicken Smith
Written and illustrated by David Mackintosh
Reviewed by Katrin Dreiling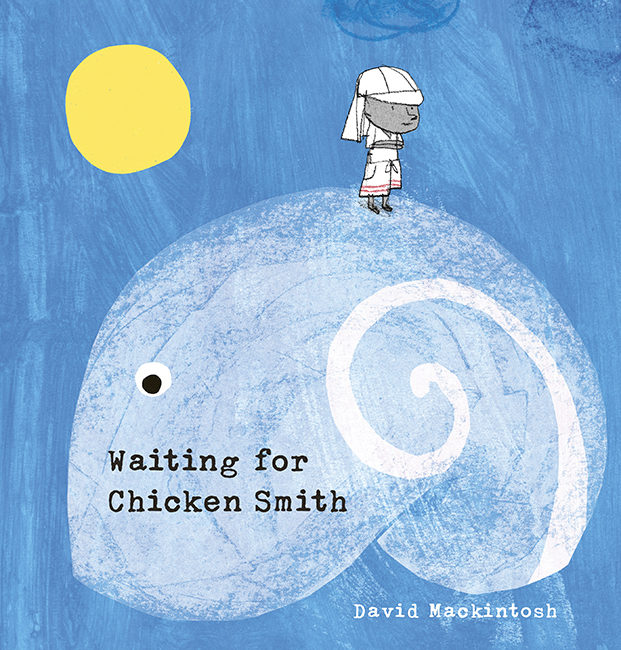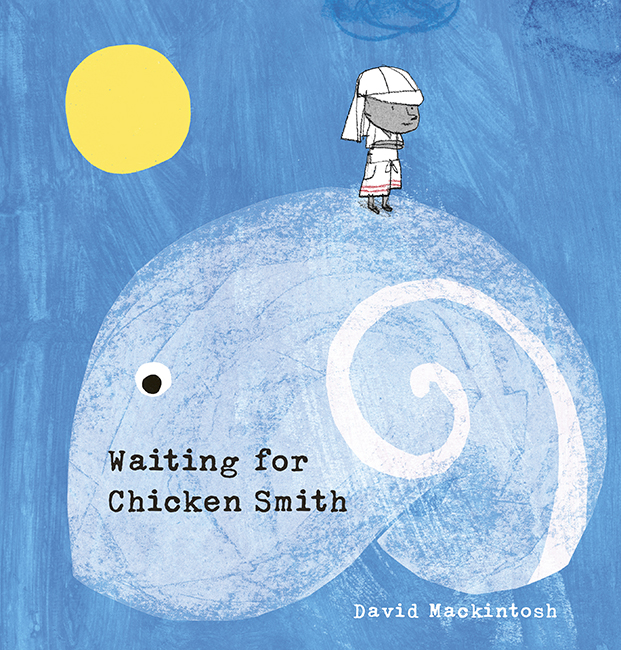 Ever since I stumbled upon David Mackintosh's What's up MuMu?  at the library, I am a massive fan. His style of illustrating and telling the story is so quirky that you are profusely surprised by how much beauty you find in the underlying message.
As an illustrator of quirky things myself, David's Waiting for Chicken Smith ticks all my boxes: it features beautifully textured illustrations, typewriter font, mixed media, crazy characters named Chicken Smith and even a blue blob with eyes (this blob turns out to be a shell already half way through the book…I just love this effect).
As a mother of three this book's beautiful message made me sniffle (and I'm not an easy one to make cry). So what IS the message? Waiting for Chicken Smith is about the narrator, a little boy on holidays, just doing that – waiting. We wait with him and page after page are  told what a legend this Chicken Smith is. He has a dog named Jelly, a pancake-making Dad with a cool surf boat and a dream of a bicycle without brakes. He gets up to all sorts of cool adventures with the narrator and carves him a whale out of driftwood – could there be any friend cooler than Chicken Smith?
This impression is beautifully framed by a pervasive atmosphere of summer :  ocean-wave-sounds, sand, ice-cream van,  that Mackintosh creates through his mixed media art style and words. I felt like I was on holidays, too, while waiting for Chicken Smith. Back to the waiting. We are waiting for Chicken to finally appear and are getting interrupted in our anticipation just like the narrator by his little sister and her frequent calls of "Hey! Look!" or "Quick! Look!". In all honesty it's a bit annoying! Because we are waiting for Chicken Smith. When finally the narrator listens and asks "What do you want?" and gets to follow her "Just hurry up! Look there he is!" we almost burst in excitement because probably we are about to meet HIM right? Right? But we don't.
Up until here the book is beautiful. But now  magic happens. The little sister has spotted a whale. It's the biggest and blackest thing in the entire book. The biggest moment. The narrator and his sister watch the whale "until their eyes hurt" and afterwards at home they look at a whale book together until really late. They are spending time together. And just like that the little sister actually has a name – Mary Ann. Maybe she will  get the blue shell instead of Chicken?
Love between siblings, re-discovering a familiar jewel by your side are  part of what makes families so important. It's a beautiful message. But does this stand the test for children?  Maybe they will be disappointed not  to  meet Chicken Smith? Will they "get it"?
I tested this book on my weekly children's art class and I think this is a treasure of a picture book with a slowly seeping in kind of message. The book does not end with a BAM. Its just Mary Ann and she was always there. But with the help of a page-swallowing black whale and funny google-eyed shell thing kids will gently be nudged towards the meaning of "family matters". It's simply a book that makes you FEEL those things.
Hardie Grant Egmont 2018 Picture Book  $24.99 Hardback 32 pages ISBN 9781760501761
Katrin Dreiling is an illustrator of children's books and has also written and illustrated How To Get A Fat Fairy Flying.