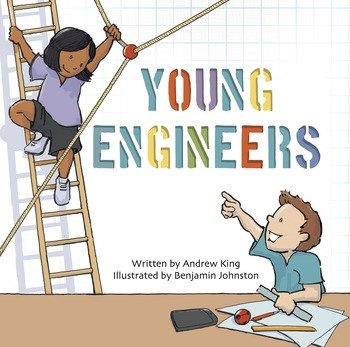 Young Engineers
by Andrew King
illustrated by Benjamin Johnston
reviewed by Mia Macrossan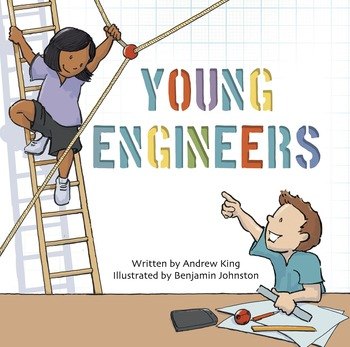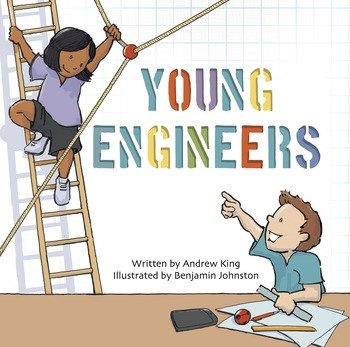 Andrew King, a Brisbane engineer, writer, and teacher is passionate about introducing young children to the boundless possibilities offered by the world of engineering.
A couple of years ago he produced a series featuring Engibears who invited young readers to help build a new robot or bearbot in Engibear's Dream; a dinosaur-shaped bridge in Engibear's Bridge and in the third book Engilina' Trains, Engilina needs help to get a train running. Each of these is meticulously illustrated by Benjamin Johnston, a full-time architect.
Now this team has produced Young Engineers, another picture book, again told in rhyming text, which explains and illustrates twelve engineering disciplines, starting with Aerospace engineering and finishing with Telecommunications. Along the way, we find out about mechanical, structural, chemical, marine, agricultural, electrical, civil, environmental, mining and biomedical engineers. I had no idea there were so many of them!
It is an engaging and imaginative way to introduce very young children to what people can achieve if they want to. As King says: 'You dream and you draw, you design and create, and you always have things to improve or to make'.
It is no small feat to condense and explain the work of these complex disciplines and to make them appealing to young children.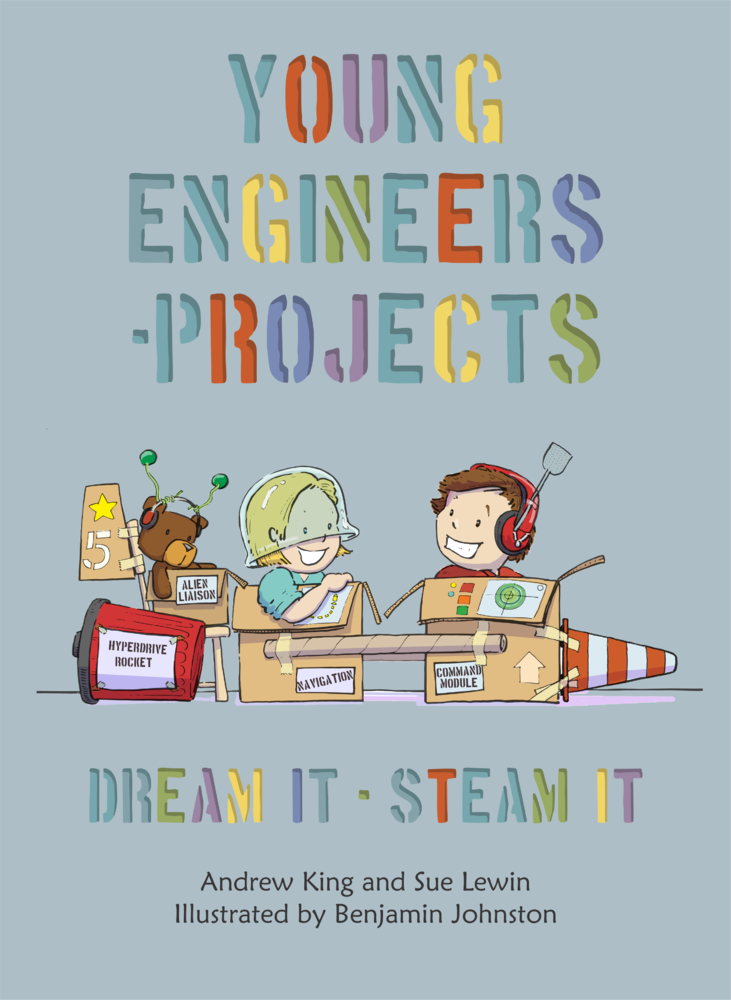 There is also a Young Engineers companion Project Book full of carefully designed and meticulously outlined activities perfect for the budding engineer.
Projects are based on the use or reuse of common household items and the use of common household tools. They are intended to be created with full adult supervision.
It shows how to make and design your own robot, balloon rockets, paper bridges, a miniature go-cart, a cardboard tractor with attachments, whirling windmills and more.
It is especially useful now when many children are looking for something challenging to do at home.
For more details on all things engineering by Andrew King go to engibears.com.
Little Steps Publishing 2019 Picture book Hardback $25.00 Age 5+ ISBN 9781925839623
Young Engineers-Projects-Dream It- Steam It
Bearly Engineering 2019 Paperback $25.00 32 pages Ages 3 – 8 ISBAN 9780646809519