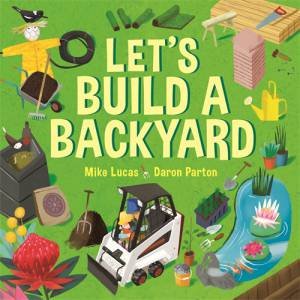 Let's Build a Backyard
By Mike Lucas & Daron Parton
Reviewed by Mia Macrossan
Mike Lucas is an engineer who writes children's books which include Let's Build a House, Vanishing and Olivia's Voice, a 2018 CBCA Notable book. In Let's Build a Backyard he takes the reader through the whole process of creating a wonderful space to enjoy. I love that the first spread has WORK WORK WORK written on the page in big letters, because the rest of the book is all that and more.
A dad and his daughter start with preparing the ground using a tipper truck, then mixing the compost followed by building a fence. Care is taken to provide shade and shelter for birds and animals by looking after a big tree, building possum boxes, bee hotels and having some rocks for lizards. There is a lot more to creating the perfect backyard – it needs a pond, a veggie patch and a flower garden. Only then can they sit back, relax and enjoy the fruits of their labours.
What a great book! It is simple, enthusiastic and full of ideas for what you could do in your own backyard. Told in cheerful rhymes that encourage you to go outdoors and build something. It deftly conveys the happiness and satisfaction gained from accomplishing a task you have set yourself. This brightly illustrated book will appeal to anyone with the space to create their own backyard.