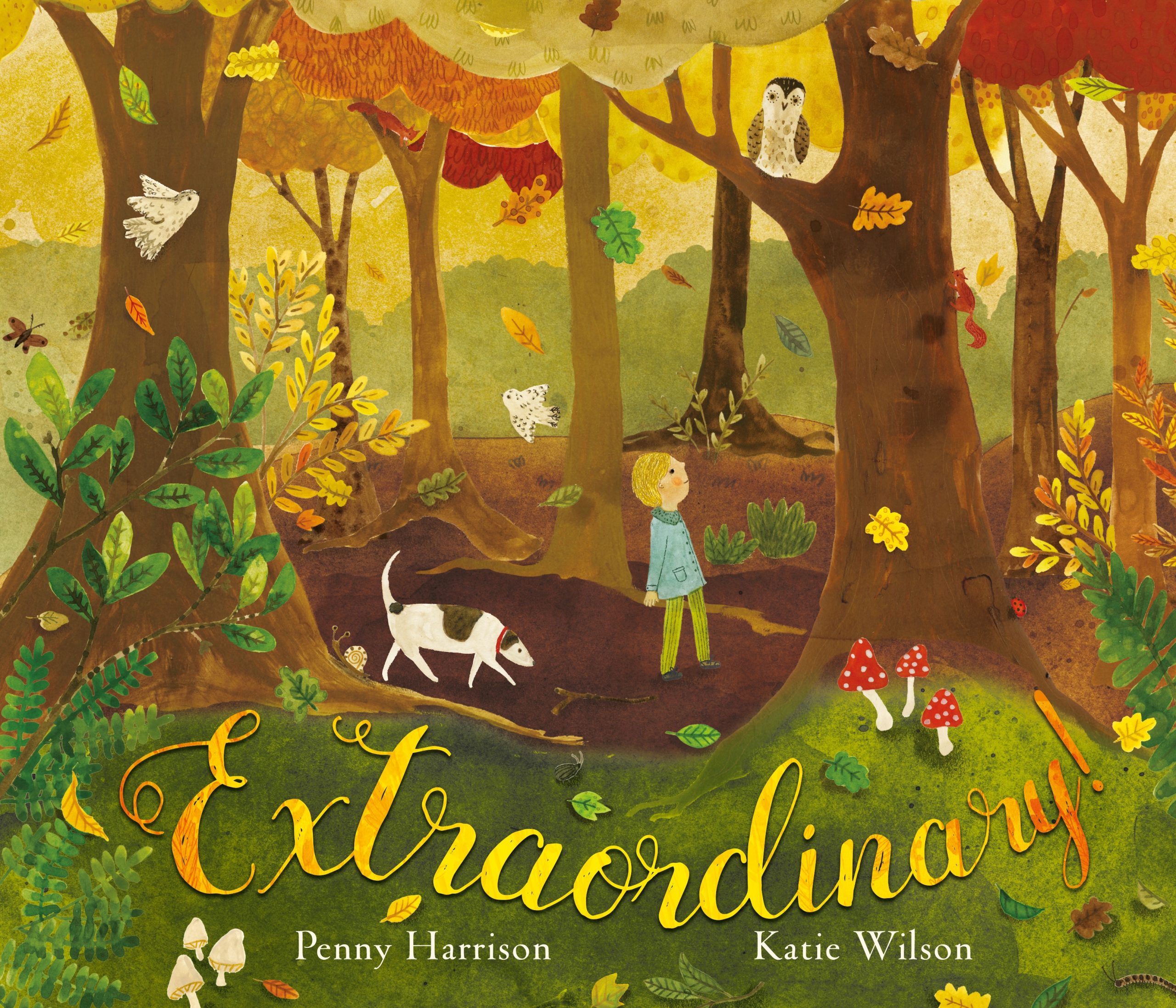 Extraordinary!
by Penny Harrison
illustrated by Katie Wilson
reviewed by Sandy Driessens
Of course, a cover with sparkly metallics sprinkled all over a creature-filled forest makes me immediately desire this book. Does the rest of the book live up to the cover? … well yes, it certainly does.
'Have you ever had an extraordinary wish? To soar like an eagle: To shimmer with fish?' The extraordinary is unusual, it is loud and booming … but is it? This thoughtful story makes you review what is extraordinary. What of those wonderful, quiet moments when you truly look at your everyday surroundings or those special, if fleeting, intimate events that are considered 'ordinary'?
Penny Harrison's expression, in lilting rhyme, has a rhythm so cleverly written that it takes you through the 'loud' with its' booming alliteration and gently leads you into the magic of the 'ordinary'. It makes you peer closely, tiptoe, imagine and breathe. The size and movement of the font design makes you slow and stop in consideration. It says, 'Read me out loud'.
Katie Wilson's illustrations complete the story. The endpapers create a transition through seasons and the varying spread-size and design inside perfectly complements the text. The images appear to be watercolour and coloured pencil using different effects to create texture. They are simple, but with enough detail to make you search, to look closely. Wilson lives in New Zealand and the forest illustrations reflect that. Her choice of colours is bold at times and then soft as and  when required.
I enjoyed this book immensely and so did the children with whom I shared it.  This book will appeal visually and verbally to readers from 4 up. The message will always be relevant and is particularly appropriate and uplifting at this time when we are restricted to doing 'the ordinary'.  
Published by New Frontier Publishing 2020  Hardback  Picture Book $24.99 Age 3 – 6   ISBN 978-1-925594-91-1