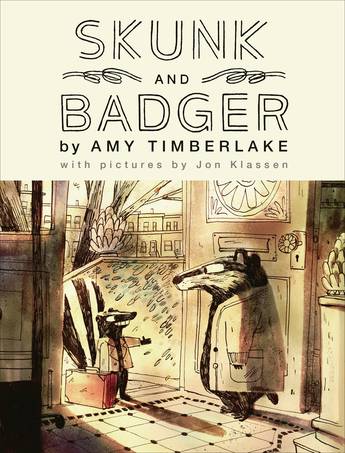 Skunk and Badger #1
by Amy Timberlake
illustrated by Jon Klassen
reviewed by Mia Macrossan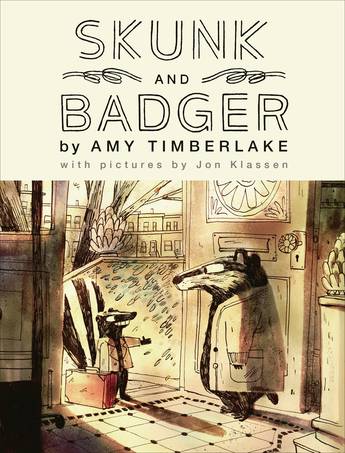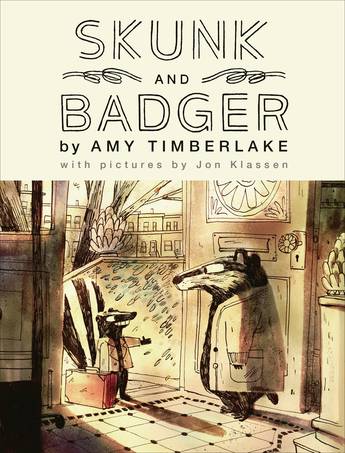 This first in a series of stories about an unlikely and extraordinary animal friendship is filled with humour, whimsy and some heartache.
Amy Timberlake, a much-awarded US writer, is ably supported by the talented illustrator Jon Klassen, himself an award winning writer and illustrator -so a top-notch team here and they excel themselves.
Badger is an IMPORTANT ROCK SCIENTIST, contently living alone in his aunt's brownstone, happily immersed in his IMPORTANT SCIENTIFIC WORK, when he hears a knock on the door. There stands Skunk with a little red suitcase and a big grin. He sticks out his paw as if he's expected.
Skunk ploughs into Badger's life and everything is changed, for one thing, why is Skunk friends with so many chickens? Skunk says he and Badger are family, really? In a disaster of almost biblical proportions the wrong animal is sprayed and Badger is not pleased. He writes a letter to his aunt…
This is a quietly hilarious read written with insight and understanding touches on family themes, friendship, tolerance and acceptance. Once you start its impossible to stop because you just have to find out how Badger is going to cope with all the changes introduced by Skunk.
Jon Klassen adds his expressive humourous take on the whole instantly creating memorable classic characters . This story of how two animals become friends despite themselves is an emotionally rich, deeply satisfying  and very funny story that children will enjoy . Recommended.
Allen & Unwin 2020