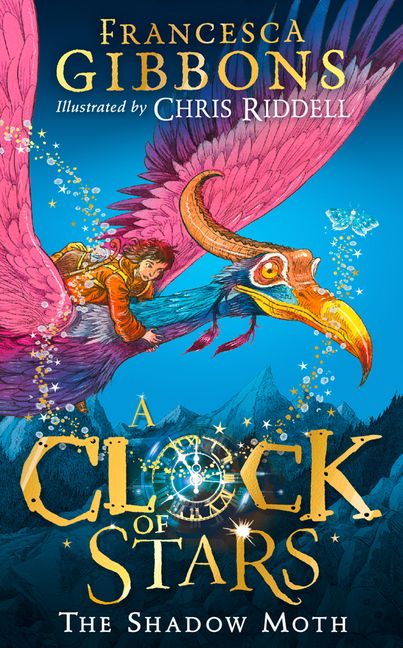 A Clock of Stars: The Shadow Moth
By Francesca Gibbons
Illustrated by Chris Riddell
Reviewed by Mia Macrossan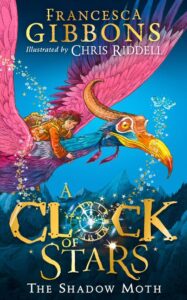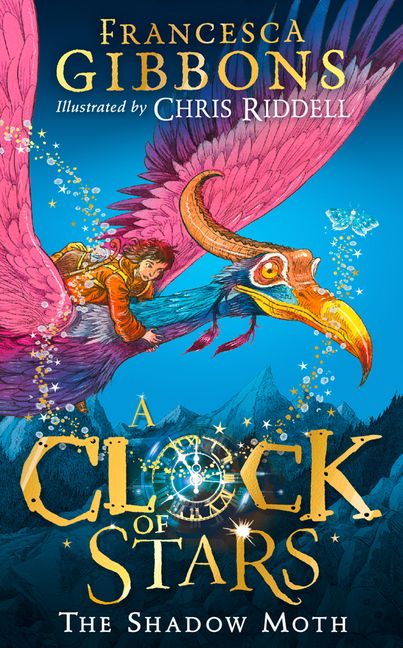 Welcome  to a brilliant new voice in middle grade fantasy fiction. Francesca Gibbons'  debut A Clock of Stars is the first in a trilogy titled The Shadow Moth. It is brimming with magic, humour and original characters not to mention illustrations by world famous artist and former Children's Laureate Chris Riddell.  It has all the qualities to make it a classic.
Twelve year old Imogen and her sometimes irritating young sister, Marie,  follow a strange silver moth through a door in a tree and find themselves in a kingdom beset with evil. The city  is invaded by savage creatures as soon as it is dark.  Although the two girls sort of  enjoy a brief stay in this strange but fascinating new world,  Imogen is  keen to get home, but the way back is uncertain and dangerous. They are helped by the spoiled prince of the kingdom, Miro, who actually needs help himself, and a richly imagined gallery of people and creatures.
It is always refreshing to find a writer who has a different take on things.  While elements in this book are familiar fantasy tropes Francesca has the flair and imagination to keep the reader guessing. This book is long, 496 pages but the story is so enticing and inventive that you just gallop through it. As well as being funny it is heartwarming – the two sisters have very realistic relationship that anyone with a sibling will recognize. The villain is a masterpiece of selfishness and there is plenty of action and reaction to carry the story along.
The moth is the heart of the mystery and all is not resolved by the end of this volume although there is a satisfactory resolution to various mysteries.  Readers will readily invest in the three appealing characters  Imogen, Marie and Miro and  look forward to their further adventures.