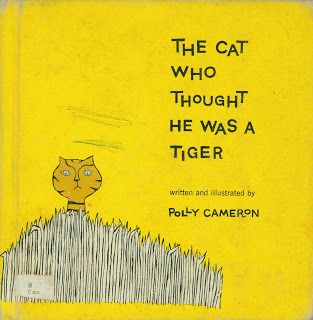 The Cat Who Thought He Was a Tiger
Written and Illustrated by Polly Cameron.
Reviewed by Sandy Driessens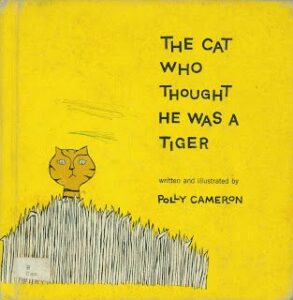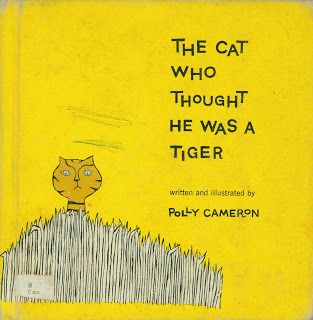 First published in the USA in 1956, this delightful little tale by Polly Cameron wasn't released in Australia until 1973 by Puffin Books. By the state of each copy I have seen, it has been well read and loved, and I understand why.
"Being a tiger is very difficult, especially when you are really a cat. The cat who thought he was a tiger, lived in the backyard alone, ate grass and slept in the tree, because he thought that was what other tigers did. Then one day he joined a circus and met a real tiger." This blub, written in 1956, succinctly describes this story and when you read it, the simple sentences and repetition of the phrase,  'because he thought that was what other tigers did", create the cat's world.
The cat is independent and fearless, just as a tiger should be. When he goes to the circus, he continues to do what he believes a "Circus Tiger" would do, which is entertaining, but then he meets a real tiger. What happened then was what really drew me to this story. Today, the cat would probably proclaim that, though a cat on the outside, he was truly a tiger on the inside. However, in this story, he is delighted to learn that he is a cat because it means he is no longer isolated but part of a family and he revels in it.
Polly Cameron's illustrations completely complement the text. Her simple, stylized drawings, using only yellow, have movement and emotion. It is through these that you see why the cat thought he was a tiger. Unlike all of his other siblings, he has stripes. He leads a solitary life, so the plates depict him alone. At the circus he meets other animals, but they have no colour. It is only when he finds out that he is a cat, and joins his "family", cat siblings and humans, that he smiles and shares their space.
I enjoyed the innocence of this book with its message of self-acceptance and family warmth. This is a lovely story to share with all kinds of family groups including schools. If you can get a copy, it's worth it.
Published by Picture Puffins in 1956, it is currently out of print but available online.