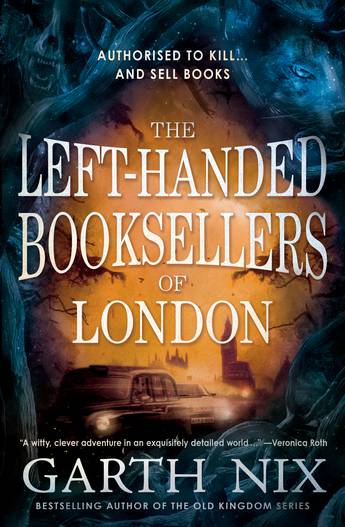 The Left-Handed Booksellers of London
By Garth Nix
Reviewed by Mia Macrossan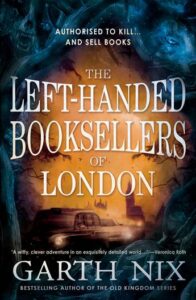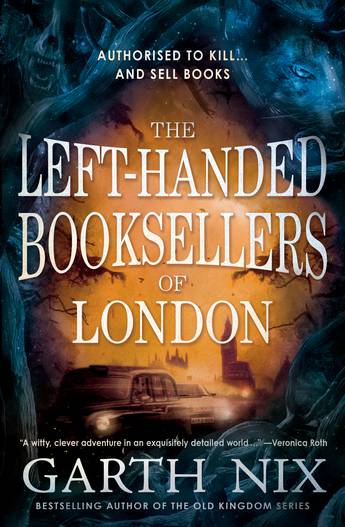 Garth has been a hugely successful writer for many years and his  YA books include the Old Kingdom fantasy series; SF novels Shade's Children and A Confusion of Princes; and a Regency romance with magic, Newt's Emerald. His novels for younger readers include The Ragwitch;  The Seventh Tower sequence; The Keys to the Kingdom series and others.
His writing is characterised by a rich imagination and characters with a deep emotional core that engages the reader immediately. His world building is meticulous. He also has a quirky sense of humour which which adds an extra sparkle to his writing
His latest book, The Left-Handed Booksellers of London is set in an alternate London in 1983, but one that resonates with Margaret Thatcher references and punk fashions.  Art student Susan is looking for her father when she unexpectedly joins forces with Merlin, a member of a secret organisation of magical booksellers who prevent evil from the Old World from harming us. Merlin is on the hunt for the entity that killed his mother and he believes that helping Susan will aid his own quest.
The left-handed booksellers are a fascinating bunch of do-gooders, immersed in a world that resonates with familiar ancient English lore, but one that has been re-invented by Garth. This story is a homage to books and booksellers with plenty of references that readers will enjoy.
Merlin is not your usual Merlin the magician and Susan is not an ordinary art student and their growing relationship unfolds in an inevitable but delightful way. Together their overlapping quests  result in encounters with both Old and New World entities, not all of them friendly. Action and adventure mixes with detection and mystery, all controlled by a master storyteller.
A Garth Nix book guarantees an intelligent and entertaining read and this is no exception.