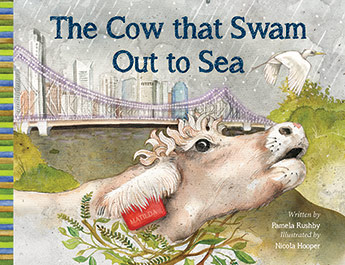 The Cow That Swam Out To Sea
By Pamela Rushby
Illustrated by Nicola Hooper
Reviewed by Mia Macrossan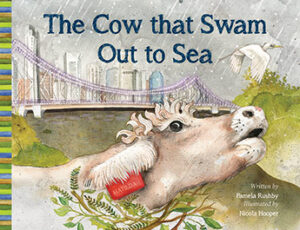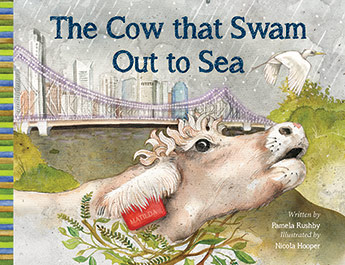 This is one of the twelve new picture books for Queensland's youngest readers published as part of First 5 Forever, an early literacy program  initiated by the Queensland Government and coordinated by the State Library of Queensland.
Pamela Rushby is a Brisbane based author who has written many highly regarded books for middle grade readers, including The Mummy Smugglers of Crumblin Castle, and this is her debut picture book. The illustrator, Nicola Hooper. has  a background in design and illustration, lithography and drawing and this is also her first picture book.
Pamela's stories are usually inspired by real events and based on meticulous research. This story is no exception – it is even dedicated to the original  cow  that swam 97 k out to sea during the 2011 Queensland floods.
Here is Matilda, a curious cow standing on the riverbank when a wall of water snatches her up,  dumps her in the river and sweeps her away. She gets all the way to Brisbane city and is seen by a little boy. On and on she goes until she gets stuck in the mudflats. A little girl and her grandfather pull her out. They ring the number in her ear tag and find that she has travelled nearly 100 kilometres! Matilda's adventure is reported in the papers but she is not so curious anymore, in fact, she is happy amongst the sunflowers and never wants to go swimming again.
Soft rich colours bring out Matilda's charm which is constant despite her alarm, anxiety, loneliness and fed-up-ness. Nicola brings out the  contrast between the  lonely cow and a big city, the anxious cow in the water containing who knows what below  and the  bright beautiful moon above. The endpapers featuring tiles  of Matilda and the sunflowers are charming if a little odd.
This delightful story  highlights the extraordinary events that can happen during extraordinary times, although floods in Queensland are distressingly regular these days.
State Library of Queensland First Five Forever 2020
Danette the Wonder Cow The Courier Mail, 11.02.2011
For those interested in a parallel story, The Cow Who Fell In the Canal by Phyllis Krasilovsky, illustrated by Peter Spier published in the 1950s, is a famous story of a Dutch cow who fell in the canal and travelled  all the way to a big town where she was discovered by her owner who was there selling cheese. There is also The Cow Who Fell to Earth by Nadia Shireen, the title alone makes you want to read it.