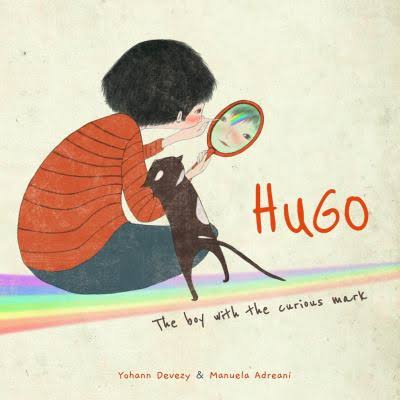 HUGO The boy with the curious mark
By Yohann Devezy 
Illustrated by Manuela Adreani
Reviewed by Sandy Driessens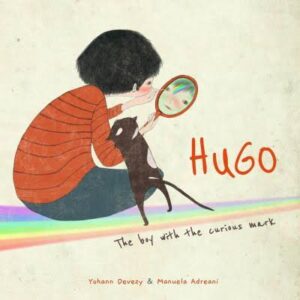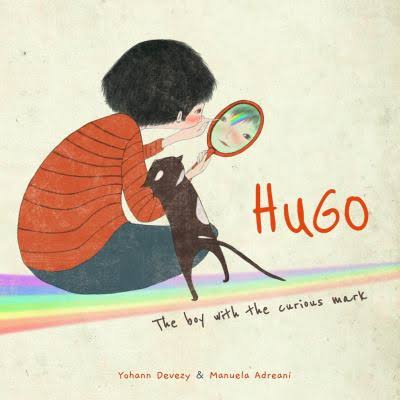 "Hugo was born with a curious mark. It looked like a rainbow. His family told him not to worry about it. Someday, they said, it will just disappear."
But it didn't, it grew with him. Some children laughed at him and though his grandmother comforted him, saying his difference was wonderful, Hugo longed to find someone with a mark like his.
So, he set off on a journey to the beach, the city and even a carnival, but found no one with a similar mark. Then something wonderful happened, a girl came to his school and she had a rainbow mark too.
As his debut book, French-born Yohann Devezy, has obviously written a story about something close to his heart – diversity. Using simple sentences and adjectives that trigger emotion, the reader senses the loneliness and desperation that Hugo feels.
The illustrations by Italian, Manuela Adreani, have a distinctly European feel to them, appearing to be water-coloured, pencil sketches. Emotions in the characters are depicted in their body language rather than facial expression.
The end papers are a collage of roughs of the final images. There are six pages as the end of the book of sketches for colouring by the reader.
Created for early childhood readers, this story speaks of physical diversity but I interpret the rainbow mark as emotional or social diversity.
I believe the imagery of story can be adapted, depending on the age of the child/adult sharing it. Ending with a message of acceptance and inclusivity it may be comforting to other "Hugos" out there.