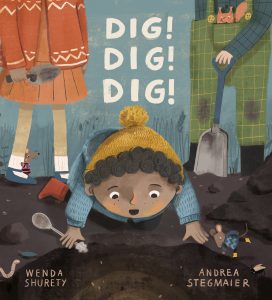 Dig! Dig! Dig!
Written by Wenda Shurety
Illustrated by Andrea Stegmaier
Reviewed by Zewlan Moor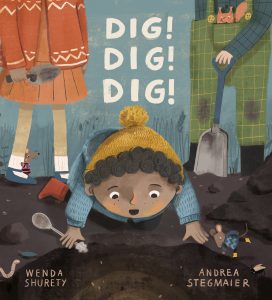 Jake starts off in a place many of us are familiar with at this COVID moment. He lives in Grey Street. 'Glum, gloomy, Grey Street.' But he fantasizes about being anywhere else. He sighs and spins the globe and notices a large island on the other side of the world. It is not stated in the text, but the illustration shows Australia on the globe.
When I was a child, in Australia, our teachers and grandparents would always ask us if we were digging a hole to China. For the British-born author, Shurety, the destination was always the incredibly exotic Australia. 
Jake wonders, 'What would it be like to live there? Did people walk upside down?' He decides to find out, by digging a hole to the other side of the world. The job is slow going, but with the help of the neighbourhood kids and their ingenious tools, they finally manage to make it through to the other side. And what do they find there? You'll have to read the book to find out! 
The text is beautifully structured and a joy to read aloud. The illustrations are superb, with the cute, round faces of the children offset by a sophisticated palette of browns, reds, and teals, lending it a nostalgic, retro feel. The illustrations, especially the endpapers, encouraged discussion about perspective with my 6-year-old son. He loved noticing the small differences between the front and back endpapers too and explaining what the significance of these were in terms of the narrative.
The double spread where we had to hold up the book in portrait mode was also a hit. We examined the excavation in cross section and marvelled at the objects they missed as they dug. While reminiscent of Mac Barnett and Jon Klassen's Sam and Dave Dig a Hole, this book has children more in mind as its core audience.
The end of the book reminds readers to check with an adult before digging. I hope the adults all know to ring the Dial Before You Dig hotline. In parts of Australia where there are no telephone lines, the hotline is there to protect cables and water pipes from over-zealous home improvers. 
Even though this book was surely written before the pandemic, the themes of friendship, teamwork and determination end up being timely and universal.