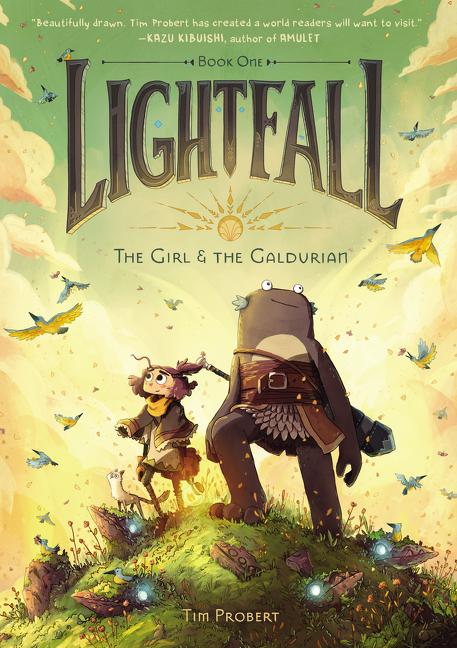 Lightfall: The Girl & The Galdurian
By Tim Probert
Reviewed by Sarah Custance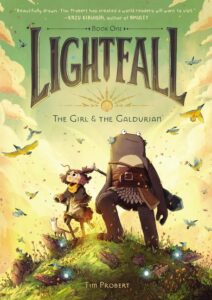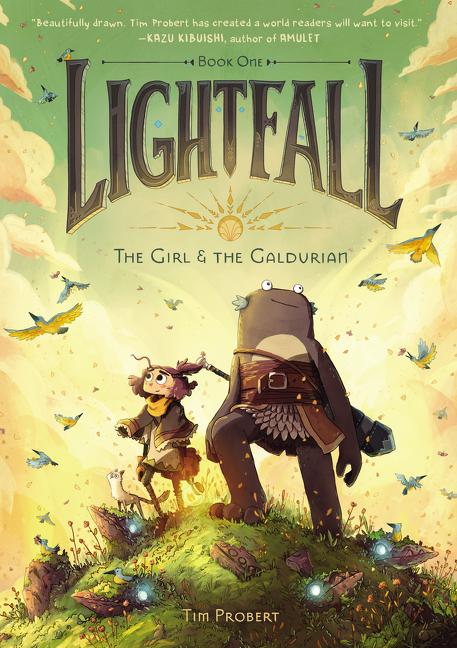 Tim Probert is a New York illustrator and an Art Director at the Nathan Love animation studio. The Girl & The Galdurian is his first novel and the first book in the Lightfall graphic novel series.
Young Bea lives a peaceful life creating potions and tonics with her adopted grandfather the Pig Wizard. One day while out collecting ingredients she is saved by Cad, one of the last remaining Galdurians, who is looking for the Pig Wizard's help in finding the rest of his race.
Their adventure begins when the two arrive back home to discover that the Pig Wizard is missing. With a vaguely detailed letter as their only guide the unlikely companions set off in search of the missing wizard. When faced with countless dangers, dead ends, thieves and mysteries can these two opposing personalities really work together or will their differences drive them apart?
Tim has made a spectacular world instantly drawing the reader in with his wonderfully magical illustrations. Each character's emotions is quickly realised in each panel through both background and facial expressions. The main character Bea is a highly anxious person which is shown to the audience though dark, wispy, vines in times of struggle, while Cad's optimism is seen though bright panels of light often shown in the background.
The main theme throughout this story is that of anxiety and pessimism reacting to confidence and hope shown by the two contrasting characters of Bea and Cad. There is also the motif of finding oneself through struggles because "We're all a little lost, aren't we?".
Lightfall: The Girl & The Galdurian would be a wonderful book for readers of Kazu Kibuishi's Amulet series as both have dark fantasy elements and quickly engaging plots.
HarperAlley 2020