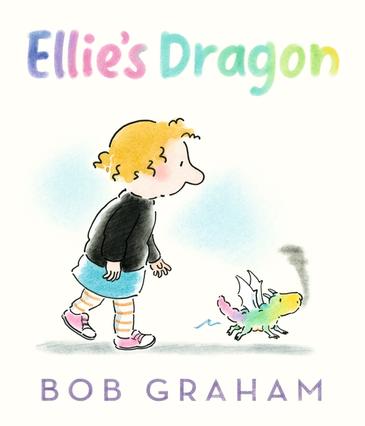 Ellie's Dragon
By Bob Graham
Reviewed by Mia Macrossan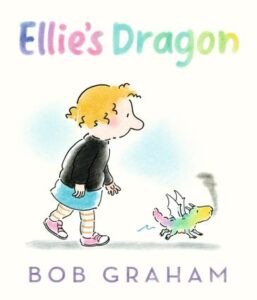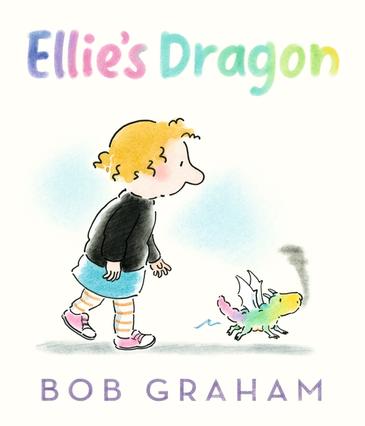 Bob Graham has been writing and illustrating picture books for about 50 years. He has won too many awards for me to mention here. A new book by him is always a treat.
Ellie's Dragon is a picture book about a little girl who finds a small dragon sitting on one of the egg cartons on display in the supermarket. 'It was pale and luminous with shifting rainbow colours, like oil on water.'
Since it was quite the sweetest thing she had ever seen she took him home and called him Scratch. Scratch the dragon stays with Ellie as she grows up from toddler through to prep and  primary school student. They have many adventures.
The most notable feature about Scratch is that while Ellie's peers can see him easily, no adult can. She takes him to school but while her friends all see him the teacher saw nothing.  Will Ellie still be able to see Scratch as she grows up?
Each page is worth taking the time to explore. One of my favourites is the scene in the cinema where Ellie is sitting with her Dad, unbeknownst to him sharing her popcorn with Scratch. If you look around you can see another child pointing out the dragon to their bemused parent, in the same row is a little girl sitting happily watching the film with her duck on her lap. Another page shows Scrap  being fed in the dollhouse where he lives for a time. Just look at the décor.
This subtle tale about the magic of childhood told in short sentences speaks volumes and is illustrated in Bob's trademark expressive style. There's something homely and comforting about his work although he has a sharp eye for telling detail, e.g. there is no text in the supermarket double page that starts the story but the signs of CHEAP, SAVE, NOW, Fabulous BARGAINS, and SPECIAL to list a few say it all.
Not a scrap of space is wasted as the story starts and ends with the endpapers. Filled with delightful detail this charming story is sure to please Bob Graham's many fans and get him some new ones.
Walker Books 2020