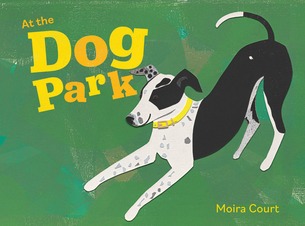 At the Dog Park
By Moira Court
Reviewed by Mia Macrossan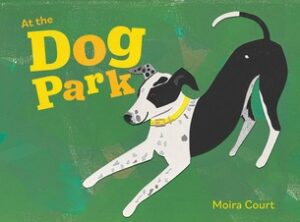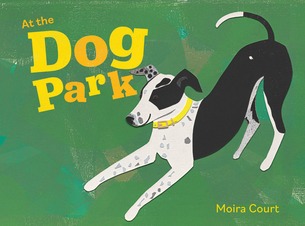 This  picture book will appeal to very young children, those aged about two plus  It is very simple and very clever using dogs at the dog park in all their splendid variety to illustrate opposites of all kinds. 'This dog is hot' shows a dog panting, 'this dog is cold' shows a dog wearing a little jumper. 'This dog is smooth' shows a short hair and 'this dog is shaggy' show a big well shaggy dog and so on. You would be surprised at the range and variety of descriptive terms Moira manages to get into this little book using a lively rhyming prose.
The illustrations are attractive and stylised. Moira uses a mixture of layered woodblock prints, screen printing and collage and the dogs, no more than two to a page really come alive. They pounce and leap, stand and sit, prance and gambol with great energy. The minimal background is always green because after all, they are at the dog park.
Altogether a great little book for dog lovers. It is impossible to resist, if you own a dog yourself, to try and find the one most similar to your own dog. And an attractive and painless way to teach opposites to littllies.
Fremantle Press 2020