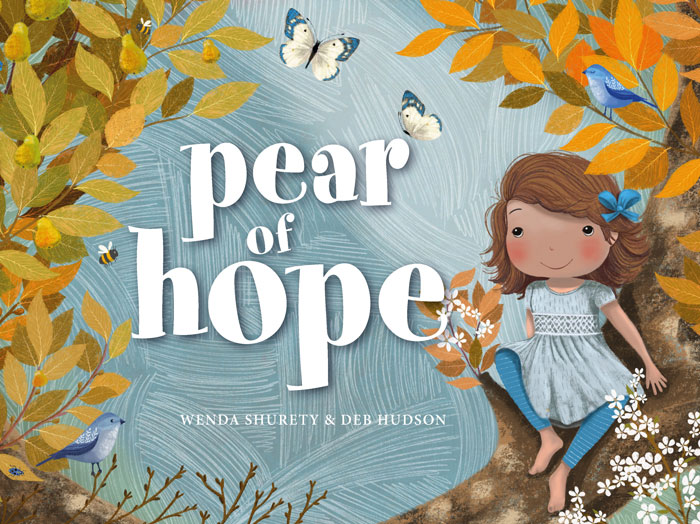 Pear of Hope
By Wenda Shurety
Illustrated by Deb Hudson
Reviewed by Sandy Driessens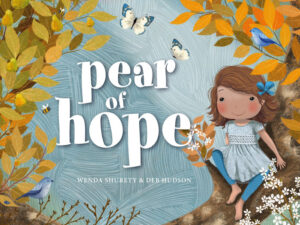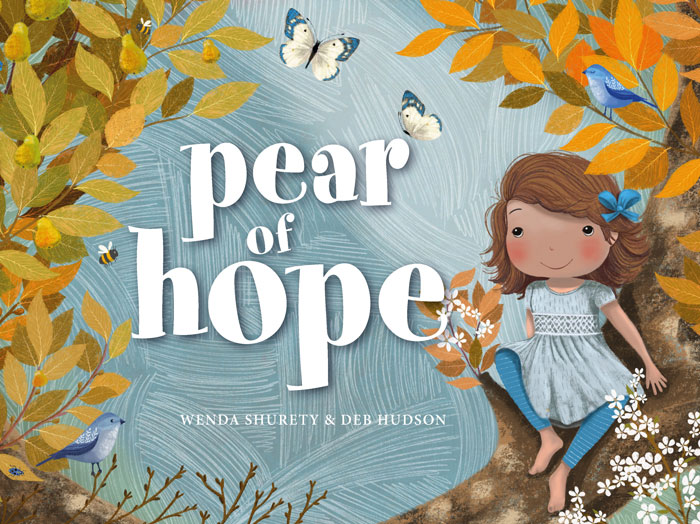 Blue skies, butterflies, bees, birds and flowers create a lovely setting for a hopeful little girl. "At the bottom of the garden grew an old pear tree. A home of buzzing and budding, scuttlers and flutterers, and tweets and squeaks". This tree was Anna's secret hideout, but the skies darkened, winter came and Anna could no longer go outside. Spring arrived and Anna, who looked different now, found comfort under the canopy of flowers and leaves and in the familiar sounds of creatures and her friends. The tree fruits and Anna plants one of the seeds. With nurturing and care, day by day, the plant sprouts and grows as does Anna's hair and playfulness. By the time it grows into a tree and flowers, Anna has a ponytail and when it produces a pear, she is full of hope.
Wenda Shurety  uses symbolism to describe Anna's journey through illness. The winter with piercing lightning and smothering fog represents the pain and confusion Anna feels in her illness. The return of spring with "the sun … the buzz of pollen-laden bees … the pitter-patter of petals" comforts Anna. The alliteration is soft and enveloping, the sounds of healing. The growth of the pear from seed to flowering tree, mirrors her transition to health.
Deb Hudson's textural images with opaque paint colours and double page spreads create a special world for Anna and her friends. Her visual references to growth are not only in the seeds but also subtly evident in the growth of the birds and her puppy. The simple style used on Anna's face and body movement captures her emotions beautifully. The symbolism of the pear in different cultures, described on the final page, explains Shurety's use in this particular story.
Created for children 5 – 8 years, this heart-felt story would be a gentle tool for creating discussion around childhood illness and how to deal with it. Whether for a child experiencing illness or for those around them, it is meant to inspire bravery and provide support and hope that can be found if we look to our natural surroundings. This book would be a welcome addition to children's hospital education and libraries.