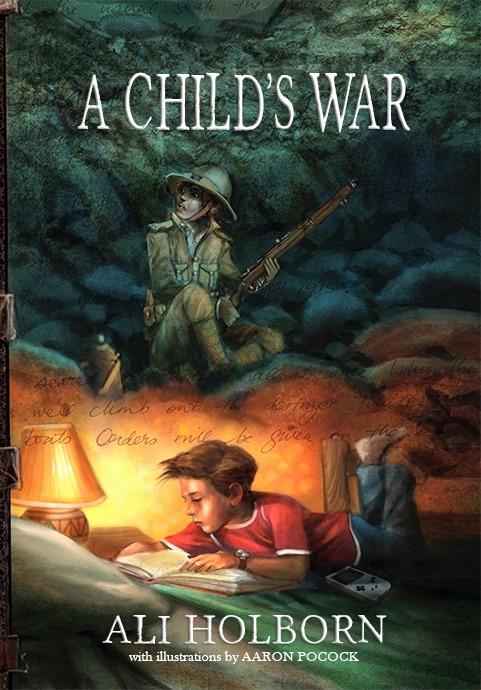 A Child's War
Written by Ali Holborn
Illustrated by Aaron Pocock
Reviewed by Sandy Driessens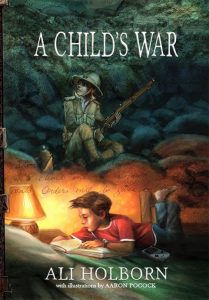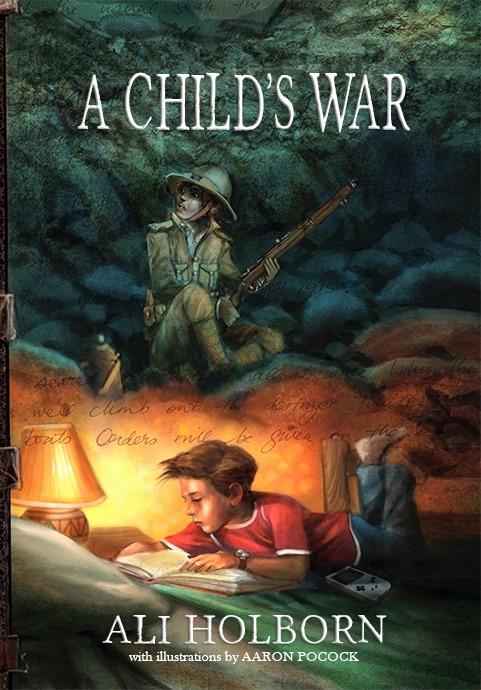 The leather-bound journal with tape holding the spine and the images of light and dark, prepare you for a heart-wrenching ANZAC story of A Child's War.  But which is the child?
"Troy would rather kill soldiers in his computer game than write an essay for the ANZAC Day competition. But when his mum comes home from Nanna Elsie's with old photos and a journal from Gallipoli, he is transported to the horrors of a real battlefield'. Troy reads the hand-written journal of his great, great uncle Arthur from the comfort of his bedroom and with the companionship of his Mum and his dog, Mutley. While reading he feels an affinity for Arthur and becomes engrossed in his story. Perhaps, Troy now has a different perspective on killing soldiers.  Will it affect him enough to enter the competition?
Ali Holborn has written a touching, short chapter book that introduces the reader to the characters through their conversations, not their physical appearance. The experiences of Troy and Arthur are woven skilfully throughout and their emotional growth is gently described. The language is fitting for young readers (8 – 11years) with narrative that will make them relate to the two boys.
The graphics, by Aaron Pocock, continue in the same manner as the cover. Handwritten pages from the journal have been created to look authentic and though some children may have difficulty reading the script, the text following clarifies it. The poignant, pencil sketches interspersed throughout are placed in pertinent spaces and contribute to the feel of the book.
A good read to introduce children to the ANZAC story, this book was better than I anticipated. Obviously written to encourage Australian and New Zealander children to appreciate the sacrifice made by defence forces of the past, it is not contrived, though a work of fiction.