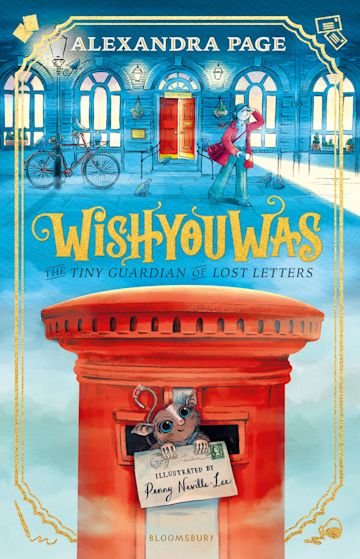 Wishyouwas: The Tiny Guardian of Lost Letters
By  Alexandra Page
Illustrated by Penny Neville-Lee
Reviewed by Melissa Salisbury
Alexandra Page's first children's book (and the first in a series), Wishyouwas: The Tiny Guardian of Lost Letters, is a charming story timed well for release in the lead up to Christmas.
As Christmas fast approaches, we meet a lonely young girl called Penny. Her mother, an airmail pilot, is unable to return home due to a thick gloomy fog that has settled over London. Instead, she's living with her gruff Uncle Frank who is busy running his post office.
As Penny writes a letter to her mother, she sees a shadow darting through the post office and thinks it's a rat. When she hears the springing of a rat trap, kind-hearted Penny decides to rescue the creature. However, she soon discovers it's not a rat, but a small fluffy creature called Wishyouwas, who is trying to take a lost letter. How does she know this? Because the creature can talk! Penny soon learns Wishyouwas is a Sorter, one of the self-appointed guardians of lost letters living in a secret world in the tunnels under London.
Penny soon embarks on an underground adventure, trying to help Wishyouwas and the other Sorters, Solvers and Deliverers who are in danger from Stanley Scrawl, a Royal Mail rat catcher with a dastardly plan to get rid of the guardians of lost letters.
The unfolding plot will have young readers absorbed or begging for one more chapter, as they follow Penny and Wishyouwas both aboveground and below.
Alexandra Page has developed a richly imaginative world in the tunnels of London, where the endearing Sorters, Solvers and Deliverers have made their home using discarded or broken post office paraphernalia from the world above. The creatures are both adorable and earnest in their desire to return lost letters to the original addressee, and the reader quickly comes to care about them.
Penny is also a well-drawn character, who children will empathise with as she longs for her mother to return home in time for Christmas. Such a theme may be especially poignant for families around the world who are still separated thanks to the current pandemic. Penny is both brave and kind, arguably two important attributes for a heroine trying to help small fluffy creatures and save Christmas from being ruined by lost post!
The theme of postal delivery is threaded throughout the story with the cleverly named characters, such as Handlewithcare and Thiswayup. When Wishyouwas meets Penny, he always refers to her as Dear Penny, which both beautifully sets up the friendship they develop, and again cleverly reflects the postage theme.
This story is perfect for children who love animal adventures, secret worlds, and a little bit of Christmas magic. And who doesn't love that?