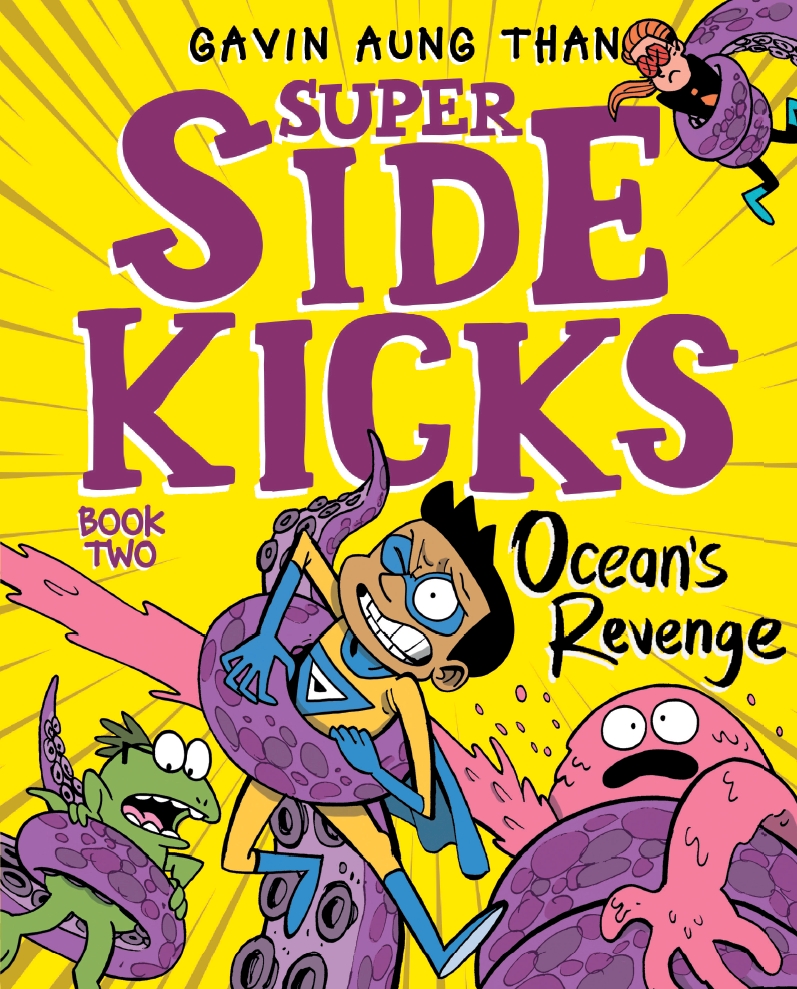 Super Sidekicks #2: Ocean's Revenge
Written and illustrated by Gavin Aung Than
Reviewed by Junior Reviewer Finley, aged 8
This book is about… It's about a team of super sidekicks that don't want to be their superheroes' sidekicks anymore, and in this book the queen of the ocean gets revenge on the humans for throwing trash into her ocean. The Super Sidekicks' goal is to stop the queen of the ocean from destroying their city. She says she is going to make lots of trash titans to destroy their city and all the others.
My  favourite character is

… Trash Titan/ Trevor.
Describe them and tell us why you like them.

He is a giant pile of trash which has been moulded into a giant trash titan. He's a bad guy, but by the end he's a goody! I like him because he looks cool.
What was the most interesting/exciting/suspenseful moment in the story? 

The most suspenseful thing was when Trash Titan/ Trevor ate the Super Sidekicks. They asked him to eat them because they needed to talk to the queen of the ocean, who was inside his belly.
Did this story make you laugh/cry/throw it across the room?

It made me laugh.
Would you have changed anything in the story and why?

 I wouldn't change anything in the story.
Would you recommend this book?

Yes, to kids who like giant monsters

.
Is there anything else you want to say about this book? For example, did you like the illustrations?

I liked the illustrations. I read this book in one day. It was just as good as Super Sidekicks 1: No Adults Allowed. They were both amazing. The message of this book is no throwing trash into the ocean. Goo (one of the Super Sidekicks) would say: 'Naughty humans if they do it'.
Interesting fact about yourself:

I'm good at drawing.
How many hearts out of five?
♥ ♥ ♥ ♥ ♥
Thank you, Finley,  for being a StoryLinks Junior Reviewer!