Endgame
By Malorie Blackman
Reviewed by Margaret McKay-Lowndes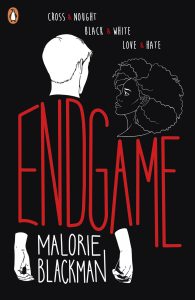 Noughts and Crosses is Malorie Blackman's epic six novel series which has been 20 years in the making. Endgame is the final instalment, the others being Noughts and Crosses, Knife Edge, Checkmate, Double Cross, Crossfire.  Endgame and draws on the backstories and histories of many of the characters and follows directly on from the 'cliffhanger' which took place at the end of Book 5.
In the dystopian world skilfully created by Blackman, race relations are turned on their head, with much tension between the dark-skinned and dominant Crosses and the fair-skinned underdogs, the Noughts. Not only is there racial tension, but the characters occupy a seedy underworld of drug dealing, people trafficking and high finance, making it difficult at times to discern the heroes and the villains. Each character is duplicitous, leading to many plot twists and turns and creating much suspense.
The story is revealed in episodic format, each progression told from a different character's point of view. Sometimes it feels like a screenplay for a television drama more than a novel, with several nail-biting climaxes unfolding. Several plot-lines come together in a final show-down with satisfactory, but tragic, outcomes.
This novel is suitable for those readers who have followed the series and read the prior instalments, as there are so many references to previous events. Readers 15+ who enjoy dystopian crime and mystery would enjoy the series and my recommendation would be to start with the first one, Noughts and Crosses.