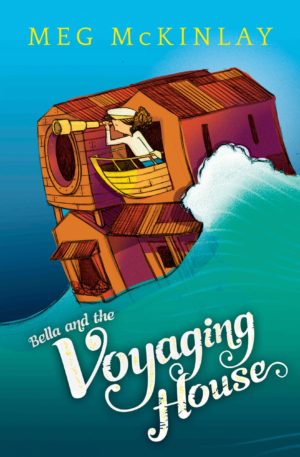 Bella and the Voyaging House
By Meg McKinlay
Illustrated by Nicholas Schafer
Reviewed by Sarah Custance
Australian author Meg McKinlay is best known for her award-winning books A Single Stone, Catch a Falling Star, Surface Tension, and Annabel, Again. Now Bella and her travelling house are back for their second early reader adventure in, Bella and the Voyaging House.
Bella's parents and her house have an agreement of sorts, which is an odd thing to say but when your house likes to move around on its own, it becomes something necessary to clarify. The agreement is that the house can travel as much as it likes at night, when everyone is sleeping, but must be back on their plot of land by dawn so that Bella's parents can go about their days.
But when Bella has the most fantastical idea ever for her grandfather's birthday present, rules are broken, treasures are found, high sea voyages take place, playful sea creatures get too close, houses disobey, and strange inventions save the day!
Bella and the Voyaging House follows on from Bella and the Wandering House and is full of fun and silliness. The book explores loss in a subtle and compassionate way, along with themes of family and discovering your inner child.
Small illustrations by Nicholas Schafer help to bring all the characters and the house to life with simple drawings scattered throughout the book adding to its charm and appeal to young readers. The adventures of Bella will be books that a young reader can go back to again and again while still finding them amusing and lighting up their imaginations.