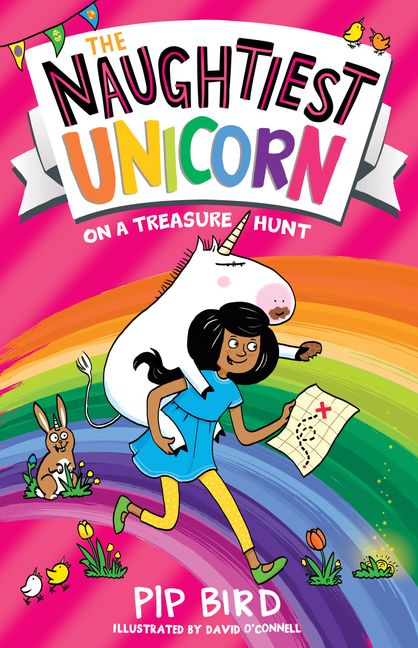 The Naughtiest Unicorn#10 On a Treasure Hunt
By Pip Bird
Illustrated by David O'Connell
Reviewed by Sarah Custance
On a Treasure Hunt is the 10th instalment in The Naughtiest Unicorn book series by author Pip Bird. The series follows the misadventures of ever optimistic Mira and her UBBF (Unicorn Best Friend Forever) Dave, who is the opposite of every other unicorn, as they venture through life at Unicorn School!
It's the longest day of the year (which already has some students confused about the meaning of time…) and at Unicorn School that means it's time for treasure hunting! Class Red are excited to participate in all of the fun activities that the teachers have set up for them throughout the school grounds and even Dave, who would really prefer to be sleeping, is getting involved (mostly for the chocolate eggs).
When Mira finds a riddle in amongst some of the treasures, she decides to keep it a secret from her classmates so that she can surprise them at the end with the most amazing treasure and help prove that herself and Dave are just as useful as everyone else. Will Mira and Dave be able to solve the riddle and find the treasure? Will Mira and her big sister Rani ever get along? And most importantly… will Dave ever stop farting and doing such colossal poops?
Young readers will be giggling from start to end with Dave the unicorn's antics, from stealing a basket of chocolate eggs from a teacher, to replacing treasures with sparkling poops and lots and lots of unicorn farting… In amongst the fart and poop jokes there are also more traditional themes such as friendship, inclusivity, and sibling rivalries.
Illustrator David O'Connell really brings the book to life with a diverse cast of students, fun and engaging black and white imagery throughout the book, and the chubbiest, grumpiest unicorn you've ever seen.
While On a Treasure Hunt may not go down in history as a great literary masterpiece, it will absolutely keep young readers wanting more of The Naughtiest Unicorn, either to read on their own or as a bedtime read aloud.
While it is part of a series, On a Treasure Hunt can easily be read as a stand alone book, and if your young reader enjoys it's quirkiness then you have 9 other books to now explore!